Eleanor of Provence: Queenship in Thirteenth-Century England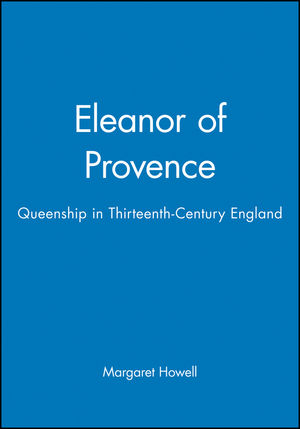 Eleanor of Provence: Queenship in Thirteenth-Century England
ISBN: 978-0-631-22739-7 May 2001 Wiley-Blackwell 384 Pages
Description
It provides an unusually intimate and coherent picture of a woman who combined a remarkable aptitude for politics with a strong family commitment and warm friendships.
Table of contents
List of Plates.
List of Figures.
Preface.
List of Abbreviations.
Note on Money.
1. Childhood, Marriage and Coronation.
2. The Young Queen.
3. Queen's Men and King's Men.
4. The Queen's Life-Style.
5. Queen Regent.
6. Faction.
7. Revolution.
8. Reaction.
9. War.
10. A Troubled Peace.
11. Queenship: Image, Practice and Resources.
12. Queen Mother.
Bibliography.
Index.
Reviews
"Margaret Howell's thought provoking study of King Henry III's queen, Eleanor of Provence: Queenship in Thirteenth-Century England, has come as a welcome, timely and much needed addition ... Margaret Howell's carefully researched volume has finally allowed Eleanor of Provence to emerge as one of the most important and dominating figures in English political life during her husband's reign."
Reviews in History
"Margaret Howell has written a supremely good book ... in its broad and humane sympathies, as well as in its contribution to political history, this is a book that could hardly have been better done." Times Literary Supplement

"Howell's reassessment of Eleanor's role in 13th-century politics and her approach to the study of queenship make this impressively researched work of import to scholars. Her readable and primarily narrative style should nonetheless appeal to a wider audience." Times Higher Education Supplement

"Howell's study of one of England's most long-lived queens is thoroughly delightful, engaging, and grounded in impressive scholarship." Choice

"A scholarly and very readable biography" American Historical Review

"In this deeply researched and well-written work, Howell gives, in telling detail, the life of the queen and her place in the larger events of her time ... Above all, given that counselors played as large a part as they did in Henry's reign, Howell has written a compelling and illuminating account of one counselor who has been too often overlooked, Henry's Queen." Speculum
What's New
The first biography of Eleanor of Provence.

Provides new insights into the public and private role of queens in medieval political life.