Election Campaigning: The New Marketing of Politics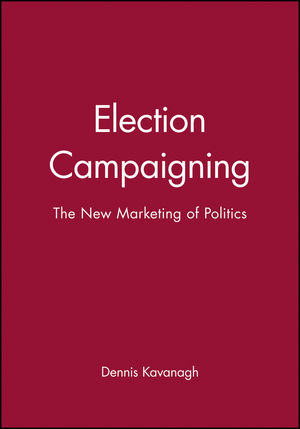 Election Campaigning: The New Marketing of Politics
ISBN: 978-0-631-19811-6 October 1995 Wiley-Blackwell 288 Pages
Description
The advent of new technology and the importation of 'professional communicators' has transformed the nature of British election campaigning. In this book, Dennis Kavanagh explores this so-called process of 'Americanization', characterized by the increasing importance of the media in elections and the rise of advertising agencies, pollsters, public relations advisers and speechwriters. He examines how the 'professional communicators' function within British politics, and assesses the reaction of the politicians themselves to the changing environment of election campaigns.
List pf Figures.
List of Tables.
Preface.
Acknowledgements.
Introduction.
1. New Campaign Communications.
2. Context.
3. Political Communications: Conservatives.
4. Political Communications: Labour.
5. Public Opinion Polls.
6. Private Opinion Polls.
7. Uses and Limits of Political Marketing.
8. Mass Media: Press.
9. Mass Media: Television.
10. Americanization.
11. Conclusion.
List of Interviewees.
References.
Index.
"In 1978, with Thatcher's agreement, a contract for media promotion of the Conservative Party's election campaign was awarded to the advertising agency, Saatchi and Saatchi. The contract with this agency was to be renewed over the ensuing years; in 1992, the Saatchi election budget was around u5 million and the account was still being paid off 24 months later by a Conservative Party heavily in debt. Over the past decades, methods of conducting election campaigns have greatly changed. Politicians increasingly rely on the skills of 'professional communicators' - advertisers, pollsters, public relations advisers - to help them fight media-orientated campaigns. There has been a sharp decline in door-to-door canvassing, while public meetings, which used to be widely attended, have been largely abandoned. Membership and activity in political parties is now at a post-war low, while voters have become spectators rather than participants in debate. In this illuminating study, the author examines how and why the changes in electioneering methods have come about. It raises many important but unresolved questions."
Labour Research
"This is a book that Mr Major and Mr Blair should make sure is thumbed through by their present day publicists and media advisers." Parliamentary Brief
* Author is one of top five political scientists in UK.
* Examines one of the most important and controversial phenomena in British election politics of recent years.
* The first analysis of the subject from the British perspective.