Electric Circuit Analysis, 3rd Edition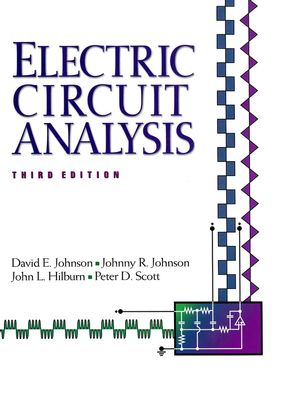 Electric Circuit Analysis, 3rd Edition
ISBN: 978-0-471-36571-6
Jan 1997
864 pages
Description
Known for its student-friendly approach, the revision of this best-selling book thoroughly covers the fundamentals of circuit theory from both a time domain and frequency domain point of view. The third edition of this comprehensive text has been fully updated and modernized to reflect current approaches to the course. It includes a greater emphasis on design, SPICE, and op amps, so as to better reflect the recent developments in the study of linear circuits.
This text provides the student with a solid foundation for future studies in any branch of electrical engineering. It is appropriate for sophomore-level courses in Introductory Circuit Analysis.
1 Introduction.
2 Resistive Circuits.
3 Dependent Sources and Op Amps.
4 Analysis Methods.
5 Energy Storage Elements.
6 First Order Circuits.
7 Second Order Circuits.
8 Sinusoidal Sources and Phasors.
9 AC Steady State Analysis.
10 AC Steady State Power.
11 Three Phase Circuits.
12 The Laplace Transform.
13 Circuit Analysis in the S Domain.
14 Frequency Response.
15 Transformers.
16 Two-port Circuits.
17 Fourier Series and Transform.
18 Putting it all Together: Linear Circuit Design.
Appendices.
A Matrix Methods.
B Complex Numbers and the Complex Exponential.
C Circuit Topology.
D SPICE Reference Guide.
E MATLAB Reference Guide.
F Answers to Selected Odd-Numbered Problems.
Design. While retaining a traditional approach, design material has been added to most chapters. Additionally, an entire chapter on circuit design principles has been added to both motivate students, and to give the course a real-world flavor.
Increased coverage of current topics. There is an increased emphasis on SPICE, op amps, the Laplace transform, transistor functions, and frequency response.
New problems. More than half of the problems are new or revised to illustrate current solutions.
Supplements. Includes both a new appendix on using MATLAB, and a separate SPICE student booklet.
Introduces the operational amplifier early, and uses it as a basic element throughout the book.
Provides numerous exercises and examples throughout.
Written in a clear, precise style that has been highly praised throughout many editions.