Electric Distribution Systems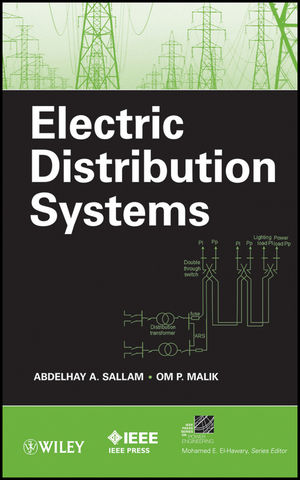 Electric Distribution Systems
ISBN: 978-0-470-27682-2
Jul 2012, Wiley-IEEE Press
576 pages
Description
This book provides a comprehensive treatment of electric distribution systems. Few books cover specific topics in more depth and there is hardly any book that deals with the key topics of interest to distribution system engineers. The book introduces these topics from two points of view:

1) The practical point of view by providing practical examples and the problems which can be solved.

2) The academic point of view where the analysis and various techniques used for distribution system planning are explained.

The most outstanding feature of this book is a combination of practical and academic explanation of its contents. Another outstanding feature is a collection of the traditional and current topics of distribution systems condensed into one book.

The reader will gain an understanding of distribution systems from both practical and academic aspects, will be able to outline and design a distribution system for specific loads, cities, zones, etc.. Readers will also be able to recognize the problems which may occur during the operation of distribution systems and be able to propose solutions for these problems.
Preface.
Acknowledgment.
Part I. Fundamental Concepts.
Chapter 1. Main Concepts of Electric Distribution Systems.
Chapter 2. Load Demand Forecasting.
Part II. Protection and Distribution Switchgears.
Chapter 3. Earthing of Electric Distribution Systems.
Chapter 4. Short Circuit Studies.
Chapter 5. Protection of Electric Distribution Systems.
Chapter 6. Distribution Switchgears.
Part III. Power Quality.
Chapter 7. Electric Power Quality.
Chapter 8. Voltage Variations.
Chapter 9. Power Factor Improvement.
Chapter 10. Harmonics in Electric Distribution Systems.
Chapter 11. Harmonics Effect Elimination.
Part IV. Management and Monitoring.
Chapter 12. Demand Side Management and Energy Efficiency.
Chapter 13. SCADA Systems.
Part V. Distributed Generation.
Chapter 14. Distributed Generation. 
REFERENCES.
INDEX.
IEEE PRESS SERIES ON POWER ENGINEERING.
Presents a comprehensive treatment of electric distribution systems
Suitable for markets worldwide, including North & South America, Europe, Africa, and Asia
Reviews both the traditional and cutting-edge topics of distribution systems
Helps the reader increase skills in distribution system automation and monitoring
The only book that deals with the key topics of interest to distribution system engineers, emphasizing both the practical point of view and the academic point of view