Electric Vehicle Technology Explained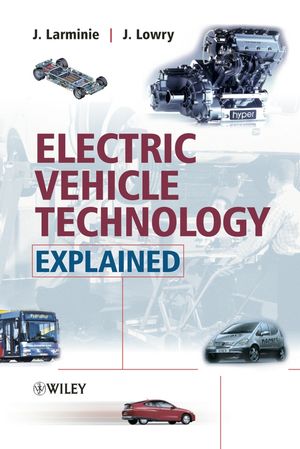 Electric Vehicle Technology Explained
ISBN: 978-0-470-09069-5
Feb 2004
314 pages
Description
While the classic battery electric car continues to make only a small impact on the automobile market, other types of electric vehicle, especially hybrids, have made significant and promising improvements. Moreover, small battery electric vehicles such as bicycles and mobility aids are also developing well. Presenting more than 160 diagrams and pictures, this book explains the science and technology behind these important developments, and also introduces the issues that underpin the design and performance modelling of electric vehicles.

Electric Vehicle Technology Explained:
Encompasses a full range of electric vehicles: bicycles, mobility aids, delivery vehicles and buses – not just cars.
Covers all the basic technology relating to electric road vehicles – batteries, super capacitors, flywheels, fuel cells, electric motors and their controllers, and system design.
Considers the environmental benefits and disadvantages of electric vehicles and their component devices.
Includes case studies of a range of batteries, hybrids and fuel cell powered vehicles, from bicycles to buses.
Offers many MATLAB® examples explaining the design of appropriate computer prediction models.
Professionals, researchers and engineers in the electric vehicle industry as well as advanced students in electrical and mechanical engineering will benefit from this comprehensive coverage of electric vehicle technology.
Acknowledgments.
Abbreviations.
Symbols.
1. Introduction.
A brief history.
Developments towards the end of the 20th century.
Types of Electric Vehicle in use Today.
Electric Vehicles for the Future.
2. Batteries.
Introduction.
Battery Parameters.
Lead Acid Batteries.
Nickel-Based Batteries.
Sodium Based Batteries.
Lithium Batteries.
Metal Air Batteries.
Battery Charging .
The Designer's Choice of Battery.
Use of Batteries in Hybrid Vehicles.
Battery Modeling.
In Conclusion
3. Alternative and Novel Energy Sources and Stores.
Introduction.
Solar Photovoltaics.
Wind Power.
Flywheels.
Super Capacitors.
Supply Rails.
4. Fuel Cells.
Fuel Cells, a Real Option?
Hydrogen Fuel Cells – Basic Principles.
Fuel Cell Thermodynamics – An Introd.uction.
Connecting Cells in Series – the Bipolar Plate.
Water Management in the PEM Fuel Cell.
Thermal Management of the PEM Fuel Cell.
A Complete Fuel Cell System.
5. Hydrogen Supply.
Introduction.
Fuel Reforming.
Hydrogen Storage I: Storage as Hydrogen.
Hydrogen Storage II: Chemical Methods.
6. Electric Machines and their Controllers.
The 'Brushed' DC Electric Motor.
DC Regulation and Voltage Conversion.
Brushless Electric Motors.
Motor Cooling, Efficiency, Size and Mass.
Electrical Machines for Hybrid Vehicles.
7. Electric Vehicle Modeling.
Introduction.
Tractive Effort.
Modeling Vehicle Acceleration.
Modeling Electric Vehicle Range.
Simulations – a Summary.
8. Design Considerations.
Introduction.
Aerodynamic Considerations.
Consideration of rolling resistance.
Transmission efficiency.
Consideration of vehicle mass.
Electric Vehicle Chassis and Body Design.
General Issues in Design.
9. Design of Ancillary Systems.
Introduction.
Heating and Cooling Systems.
Design of the Controls.
Power Steering.
Choice of Tyres.
Wing Mirrors, Aerials and Luggage Racks.
Electric Vehicles Recharging and Refuelling Systems.
10. Electric Vehicles and the Environment.
Introduction.
Vehicle Pollution: the Effect.
Vehicle Pollution: A Quantitative Analysis.
Vehicle Pollution in Context.
Alternative and Sustainable Energy via the Grid.
Using Sustainable Energy with Fueled Vehicles.
The Role of Regulations and Law Makers.
11. Case Studies.
Introduction.
Recharging Battery Vehicles.
Hybrid Vehicles.
Fuel Cell Powered Bus.
Conclusion.
Appendix: MATLAB®Examples.
Index.