Electrical Engineering for All Engineers, 2nd Edition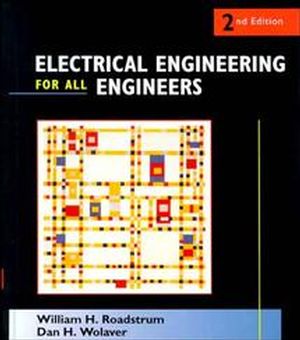 Electrical Engineering for All Engineers, 2nd Edition
ISBN: 978-0-471-51043-7
Nov 1993
736 pages
Description
This book is also available through the Introductory Engineering Custom Publishing System. If you are interested in creating a course-pack that includes chapters from this book, you can get further information by calling 212-850-6272 or sending email inquiries to engineerjwiley.com. Designed to meet the problems facing today's engineers. Offers detailed discussions of all electrical engineering systems--instrumentation, control, communications, computers and power. Introduces a new concept by using a specific example and then proceeding to the generalization. Frequent usage of non-electrical analogies enhance comprehension. All chapters contain problems followed by study questions. New problems have been added, particularly easy drill puzzlers.
CIRCUIT ANALYSIS.

Basic Circuits.

Circuit Analysis.

Alternating-Current Circuit Analysis.

Alternating-Current Power.

Alternating-Current Topics.

Transients.

ELECTRONICS.

Analog Signals and Instrumentation.

Digital Signals and Logic.

Feedback Control Systems.

Communications.

Microcomputers.

Digital Integrated Circuits.

Operational Amplifiers.

Transistors as Amplifiers.

Diodes and Transistors as Switches.

MACHINES AND POWER.

Plant Power Systems.

Transformers and Magnetics.

Motors.

Rotating Machinery Basics.

Electrical Safety.

Appendices.

Index.