Electrochemistry of Functional Supramolecular Systems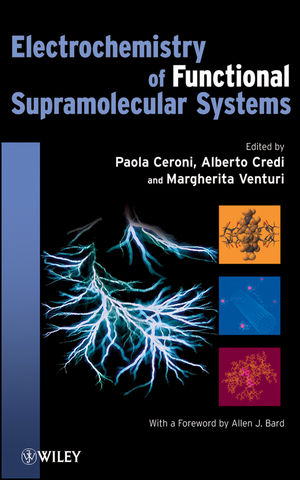 Electrochemistry of Functional Supramolecular Systems
ISBN: 978-0-470-25557-5
Jan 2010
613 pages
Description
With contributions from the most prominent experts around the world, this resource provides an accessible summary of electrochemical techniques and the applications of electrochemical concepts to molecular-level systems. It describes the most important electro-active functional supramolecular systems developed so far, including rotaxanes and catenanes as molecular machines and as elements for information processing; dendrimers as molecular batteries, sensors, light harvesting antennae, and drug delivery systems; and bio-hybrid devices.
Preface to the Wiley Series on Electrocatalysis and Electrochemistry.
Foreword.
Preface.
Contributors.
1 Electrochemically Controlled H-bonding (Diane K. Smith).
2 Molecular Motions Driven by Transition Metal Redox Couples: Ion Translocation and Assembling-Disassembling of Dinuclear Double Strand Helicates (Valeria Amendola and Luigi Fabbrizzi).
3 Molecular Encapsulation of Redox-Active Guests (Angel E. Kaifer).
4 Dendritic Encapsulation of Redox-Active Units (Christopher B. Gorman).
5 Redox-Active Metal-Polypyridine Dendrimers as Light-Harvesting Antennae (Fausto Puntoriero, Scolastica Serroni, Francesco Nastasi, and Sebastiano Campagna).
6 Dendrimers as Multielectron Storage Devices (Paola Ceroni and Margherita Venturi).
7 Self-Assembled Monolayers and Multilayers of Electroactive Thiols (Ibrahim Yildiz, Fran‡isco M. Raymo and Massimiliano Lamberto).
8 Electrochemistry of Carbon Nanoparticles (Luis Echegoyen, Amit Palkar, and Frederic Melin).
9 Molecular Devices Based on Fullerenes and Carbon Nanotubes (Matteo Iurlo, Demis Paolucci, Massimo Marcaccio, and Francesco Paolucci).
10 Functional Electroactive Biomolecules (Xiaomin Bin, Piotr Michal Diakowski, Kagan Kerman, Heinz-Bernhard Kraatz).
11 Functional Nanoparticles as Catalysts and Sensors (Brian J. Jordan, Chandramouleeswaran Subramani, and Vincent M. Rotello).
12 Biohybrid Electrochemical Devices (Ran Tel-Vered, Bilha Willner, and Itamar Willner).
13 Electroactive Rotaxanes and Catenanes (Alberto Credi and Margherita Venturi).
14 Electrochemically Driven Molecular Machines Based on Transition-metal Complexed Catenanes and Rotaxanes (Jean-Paul Collin, Fabien Durola, and Jean-Pierre Sauvage).
15 Electroactive Molecules and Supramolecules for Information Processing and Storage (Guanxin Zhang, Deqing Zhang, and Daoben Zhu).
16 Electrochemiluminescent Systems as Devices and Sensors (Andrzej Kapturkiewicz).
17 Recent Developments in the Design of Dye-Sensitized Solar Cell Components (Stefano Caramori and Carlo Alberto Bignozzi).
Index.
""There is a strong combination here of structural considerations, redox schemes, and experimental data that should allow researchers in allied areas to make new connections with unfamiliar electrochemical techniques and strategies that may prove useful in their own work."" (JACS, 2010)