Electrochromism: Fundamentals and Applications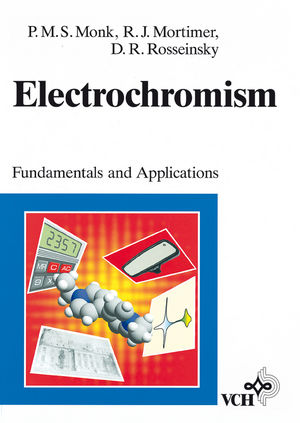 Electrochromism: Fundamentals and Applications
ISBN: 978-3-527-61536-0 September 2008 239 Pages
Description
Electrochromic devices have a number of important commercial applications, for instance in displays, as optical shutters, and as modulators for mirrors, windows, and sun-glasses.

Electrochromism - Fundamentals and Applications is the first in-depth treatise on the topic. Written by leading scientists in the field, it is a state-of-the-art account of all aspects of electrochromism, presented at a level accessible to chemists, physicists, materials scientists and engineers. Both the physical and chemical background of electrochromic phenomena are described and a comprehensive survey of both organic and inorganic compounds and systems is given. Special emphasis is placed on providing detailed, hands-on information on applications and potential uses of electrochromic systems.

This book is essential reading for scientists active in the field and for anyone wishing to enter the field. An extensive list of carefully chosen references rounds off this valuable reference source.
From the Contents:
Electrochromism and the Scope for Electrochromic Displays/
Electrochromic Operation, Kinetics and Mechanism/
Construction of Electrochromic Displays/
Electrochromic Systems/
Metal Oxides/
Phthalocyanine Systems/
Prussian Blue Systems/
Other Inorganic Systems/
Bipyridilium Salts/
Conducting Polymers/
Other Organic Systems/
Photo-Electrochromism/
Polyelectrochromism/
Electrochromism via Colloid Deposition