Electromagnetic and Electromechanical Machines, 3rd Edition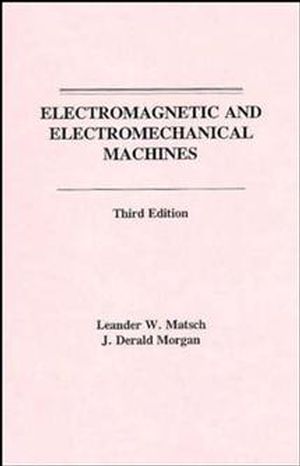 Electromagnetic and Electromechanical Machines, 3rd Edition
ISBN: 978-0-471-60364-1
Jan 1986
592 pages
Description
This well-established text emphasizes the physical rather than mathematical concepts involved in analyzing conventional machinery, focusing on the electromagnetic properties of devices which are essentially electromechanical. This Third Edition, brought up to date by Morgan, maintains the practical, applications-oriented approach and breadth of coverage of the previous editions. New to this edition are a chapter on power circuits, the introduction of AC machines before DC machines, systems theory, and unique coverage of principles of energy efficiency and economic analysis, which shows students how to choose machines for real-world applications. Illustrated.
Partial table of contents:

Basic Concepts of Power Circuits.

Energy Conversion.

The Transformer.

Synchronous Machines.

The Induction Motor.

Direct Current Machines.

System Applications of Synchronous Machines.

Special Machines.

Direct Conversion to Electrical Energy.

Appendices.

Index.