Electronic Components: Selection and Application Guidelines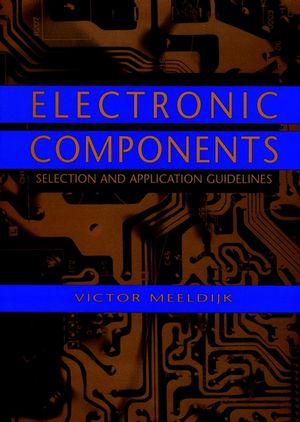 Electronic Components: Selection and Application Guidelines
ISBN: 978-0-471-18972-5 July 1997 864 Pages
Description
The definitive one-stop guide to selecting and using all types of electronic components, including.
* Resistors
* Capacitors
* Chokes, Inductors, and Transformers Delay Lines, Connectors, and Interconnection Devices Switches, Relays, and Contactors
* Wire and Cable Discrete Semiconductors
* Integrated Circuits.


Electronic Components is the essential sourcebook for electronics engineers and technicians, sales staff, marketing personnel, and other electronics professionals. It incorporates a vast amount of current information and data from thousands of catalogs, reference books, textbooks, newsletters, trade papers, and journals. The information is organized logically and cross-referenced to provide easy access to crucial component specifications and instructions. Clear, direct presentations make even complex technical information comprehensible for nontechnical professionals as well as for those with electronics backgrounds.

This comprehensive sourcebook:
* Helps users select the best component for any application
* Covers the entire spectrum of electronic components in use today
* Details all aspects of component design and application
* Explores the latest innovations and trends in the field


This remarkably detailed guide helps electronics professionals understand the many types of devices currently available, streamline the component selection process, avoid component over- and under-specification problems, understand device parameters, and reduce costs.
The Parts Selection Process.

Resistors.

Capacitors.

Chokes, Coils, Inductors, and Transformers.

Delay Lines.

Connectors and Interconnection Devices.

Switches.

Relays and Contactors.

Wire and Cable.

Discrete Semiconductors.

Integrated Circuits.

Sources of Information, Specifications, and Parts.

Standards/Trade Organizations.

Thermistors.

Index.