Electronic Health Records For Dummies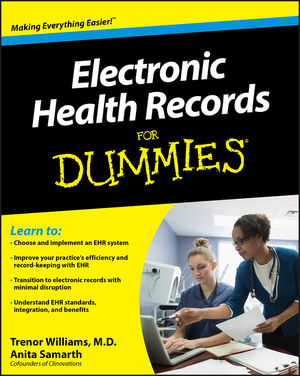 Electronic Health Records For Dummies
ISBN: 978-1-118-02393-8
Dec 2010
384 pages
Product not available for purchase
Description
The straight scoop on choosing and implementing an electronic health records (EHR) system
Doctors, nurses, and hospital and clinic administrators are interested in learning the best ways to implement and use an electronic health records system so that they can be shared across different health care settings via a network-connected information system. This helpful, plain-English guide provides need-to-know information on how to choose the right system, assure patients of the security of their records, and implement an EHR in such a way that it causes minimal disruption to the daily demands of a hospital or clinic.
Offers a plain-English guide to the many electronic health records (EHR) systems from which to choose
Authors are a duo of EHR experts who provide clear, easy-to-understand information on how to choose the right EHR system an implement it effectively
Addresses the benefits of implementing an EHR system so that critical information (such as medication, allergies, medical history, lab results, radiology images, etc.) can be shared across different health care settings
Discusses ways to talk to patients about the security of their electronic health records
Electronic Health Records For Dummies walks you through all the necessary steps to successfully choose the right EHR system, keep it current, and use it effectively.
Introduction.
Part I: Health Information Technology Basics.
Chapter 1: Understanding EHRs.
Chapter 2: Understanding What's Available: The ABCs of EHRs.
Chapter 3: Finding Help and Oversight.
Part II: Planning for an EHR.
Chapter 4: Assessing Readiness.
Chapter 5: Determining the Cost, Benefi ts, and ROI.
Chapter 6: Selecting Your Vendor Partner.
Chapter 7: Partnerships and Contracts.
Part III: I've Bought a System, Now What? Implementing an EHR.
Chapter 8: Changing the Way You Work: Workfl ow Redesign.
Chapter 9: Assigning New Roles and Responsibilities.
Chapter 10: Considering Security and Privacy.
Chapter 11: Training for Success.
Chapter 12: Communicating and Marketing Your EHR.
Chapter 13: Surviving the Go-Live.
Part IV: Optimizing and Improving Your EHR.
Chapter 14: Keeping Your Patients Healthy with an EHR.
Chapter 15: Directing Patient Access and Communication.
Chapter 16: Improving and Tweaking the System.
Part V: The Part of Tens.
Chapter 17: Ten EHR-Related Web Sites.
Chapter 18: Ten Problems (And Solutions) You'll Face.
Chapter 19: Ten Questions to Ask (And Answer).
Appendix A: Alphabet Soup.
Appendix B: Regional Extension Centers.
Appendix C: Medicare and Medicaid Incentives.
Index.