Electronics with Discrete Components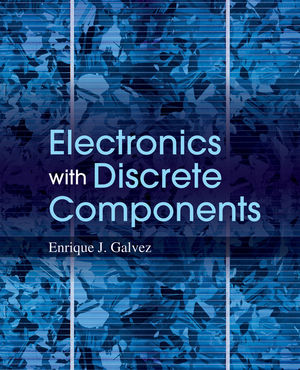 Electronics with Discrete Components
ISBN: 978-1-118-32441-7
Apr 2012
352 pages
Description
Designed for a one semester course on electronics for physics and science majors, this text offers a comprehensive, up-to-date alternative to currently available texts by providing a modern approach to the course. It includes the mix of theory and practice that matches the typical electronics course syllabus with balanced coverage of both digital and analog electronics.
1 The Basics.
2 Introduction to Digital Electronics.
3 Combinational Logic.
4 Advanced Combinational Devices.
5 Sequential Logic.
6 AC Signals.
7 Filters and the Frequency Domain.
8 Diodes.
9 Transistors.
10 Operational Amplifiers.
11 Connecting Digital to Analog and to the World.
Appendix A Logic Board.
Appendix B If the Circuit Does Not Work.
Appendix C Curve Tracker.
Index.
• Up-to-date and comprehensive coverage of both digital and analog electronics.
• A central emphasis that electronics is hands-on; that the objective is to build something; and that no black-boxes should be left unopened.
• A focus on discrete components so that students can build their understanding of more complex integrated devices and their specifications.
• Student friendly writing style
• Lab Projects section at the end of most chapters which contain many interesting circuits that have been proven to work well for instruction.
• Accompanying Lab Manual as well as an online component that allows for regular updates to contemporary equipment.