Electrostatic Discharge and Electronic Equipment: A Practical Guide for Designing to Prevent ESD Problems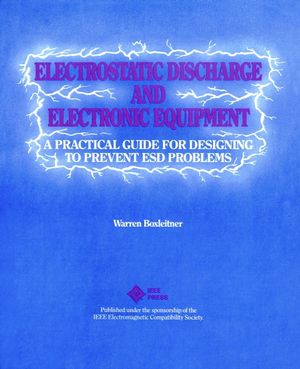 Electrostatic Discharge and Electronic Equipment: A Practical Guide for Designing to Prevent ESD Problems
ISBN: 978-0-780-35388-6 October 1999 Wiley-IEEE Press 118 Pages
Description
This book was written to take the mystery out of ESD. It explains how ESD is generated, and how it affects electronic equipment. This explanation brings ESD out of the realm of black magic and into the sphere of science. Even more important, this book explains how to design equipment to prevent ESD problems. This discussion of ESD design solutions not only includes design guidelines, but explains why they work. It also exposes myths that have developed about ESD and why they are incorrect. Finally, this book discusses the methods of testing for ESD problems. This discussion covers not only the test hardware, but also test procedures and methods that ensure meaningful results. The information contained in the following pages should help the reader prevent many (if not most) ESD problems.
Preface.
Chapter 1: A Model of the Electrostatic Discharge (ESD) Event.
Chapter 2: ESD Effects in Electronic Equipment.
Chapter 3: Firmware/Software Design Guidelines.
Chapter 4: Printed Wiring Board Design Guidelines.
Chapter 5: Cable Design Guidelines.
Chapter 6: Enclosure Design Guidelines.
Chapter 7: Electronic Circuit Design Guidelines.
Chapter 8: Manufacturing, Shipping, and Installation Guidelines.
Chapter 9: ESD Simulator Design and Usage.
Chapter 10: Guidelines for ESD Facilities and Test Methods.
Chapter 11: Statistical Sampling Criteria.
Appendix: Sample ESD Test Specification.
Bibliography.
Index.
About the Author.