Elementary Geometry, 3rd Edition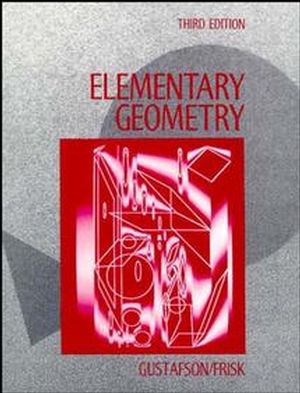 Elementary Geometry, 3rd Edition
ISBN: 978-0-471-51002-4
Jan 1991
464 pages
Description
Although extensively revised, this new edition continues in the fine tradition of its predecessor. Major changes include: a notation that formalizes the distinction between equality and congruence and between line, ray and line segment; a completely rewritten chapter on mathematical logic with inclusion of truth tables and the logical basis for the discovery of non-Euclidean geometries; expanded coverage of analytic geometry with more theorems discussed and proved with coordinate geometry; two distinct chapters on parallel lines and parallelograms; a condensed chapter on numerical trigonometry; more problems; expansion of the section on surface areas and volume; and additional review exercises at the end of each chapter. Concise and logical, it will serve as an excellent review of high school geometry.
Congruent Triangles and Basic Theorems.

Parallel Lines.

Parallelograms and Trapezoids.

Areas and Related Topics.

Ratio, Proportion, and Similarity.

Circles and More on Similarity.

Inequalities.

Geometric Loci.

Regular Polygons and Circles.

Logic.

Analytic Geometry.

Appendices.

Index.