Emancipation and Reconstruction, 2nd Edition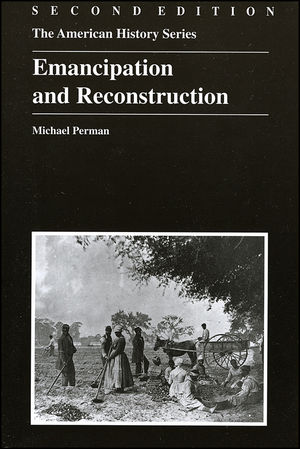 Emancipation and Reconstruction, 2nd Edition
ISBN: 978-0-882-95995-5
Jan 2003
169 pages
Description
An adept distillation of the scholarship that has been produced since the 1950s-thoughtfully reorganized and updated to include a consideration of new works that have appeared since 1987-this new edition of Michael Perman's highly popular book examines the ways in which historians have interpreted what was perhaps the largest program of domestic reform undertaken in the history of the United States.
In addition to accessing the impact of what might best be described as a maturation of the Revisionist history of Emancipation and Reconstruction, Perman introduces previously neglected areas of interest that have assumed new significance, such as the nature of the southern labor system after slavery and the role of African Americans in Reconstruction politics.
The result is a lucid portrait of the post-Civil War years, one reluctant to employ such simplistic and judgemental terms as success or failure in assessing the complex problems of rebuilding the nation.
Foreword VII
Acknowledgments, Second Edition XI
Acknowledgments, First Edition XIII
Introduction: Emancipation and Reconstruction in History 1
Chapter One: Shaping Emancipation, 1861-1870 6
From Slave Labor to Free Labor 7
The Response to Emancipation 12
The Impact of Emancipation 27
Chapter Two: Planning Reconstruction, 1865-1868 40
Presidential Reconstruction 40
Congressional Reconstruction 51
Chapter Three: Implementing Reconstruction, 1868-1873 73
The Republican Party in the South 73
The Achievement of Southern Reconstruction 86
Chapter Four: Ending Reconstruction, 1874-1879 103
Collapse in the South 103
Neglect in the North 118
Conclusion: The Dilemma of Reconstruction 142
Bibliographical Essay 145
Index 163
Photographs follow page 92