Embodying Sociology: Retrospect, Progress and Prospects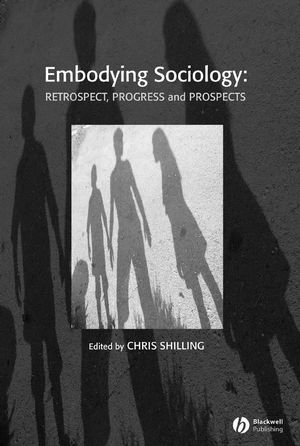 Embodying Sociology: Retrospect, Progress and Prospects
ISBN: 978-1-405-16794-9
Jun 2007, Wiley-Blackwell
208 pages
Product not available for purchase
Description
A study of 'the body' - one of the fastest growing, most influential, and most contested subjects in the social sciences and humanities.



Includes cutting edge contributions from Europe, America and Asia

Brings together a series of theoretical, methodological and empirical analyses by leading international exponents of body studies

Explores the structural, interactional and phenomenological features of human embodiment

Connects the concerns of classical sociologists to new advances in social theory, anthropology, feminism and social research

Introduces the study of 'body pedagogics'

Takes the sociological study of the body in an exciting new direction and opens up new horizons for the sociological imagination
1. Sociology and the Body: Classical Traditions and New Agendas: Chris Shilling (University of Portsmouth).
2. Culture, Technologies and Bodies: the Technological Utopia of Living Forever: Bryan S. Turner (Asia Research Institute, National University of Singapore).
3. Somatic Elements in Social Conflict: Donald N. Levine (The University of Chicago, USA).
4. Reclaiming Women's Bodies: Colonialist trope or critical epistemology?: Kathy Davis (Utrecht University, The Netherlands).
5. Fieldwork Embodied: Judith Okely (Hull University and Oxford University).
6. Researching Embodiment By Way of 'Body Techniques': Nick Crossley (University of Manchester).
7. Breathing Like A Soldier: Culture Incarnate: Brian Lande (University of California-Berkeley, USA).
8. Listening to the Dancer's Body: Anna Aalten (University of Amsterdam).
9. Embodied Knowledge in Glassblowing: The Experience of Meaning and the Struggle Towards Proficiency: Erin O'Connor (New School for Social Research, New York City, USA).
10. Vulnerable/Dangerous Bodies? The Trials and Tribulations of Sleep: Simon J. Williams (University of Warwick).
Notes on Contributors.
Name Index.
Subject Index.
?I found this volume extremely motivating. The broad scope for embodying sociology is well represented through the range of contributions, and the vast possibilities for future work in this area are highlighted.? (Medical Sociology , July 2008)


A study of 'the body' - one of the fastest growing, most influential, and most contested subjects in the social sciences and humanities

Brings together a series of theoretical, methodological, and empirical analyses by leading international exponents of body studies

Explores the structural, interactional, and phenomenological features of human embodiment

Connects the concerns of classical sociologists to new advances in social theory, anthropology, feminism, and social research