Embracing and Enhancing the Margins of Adult Education: New Directions for Adult and Continuing Education, Number 104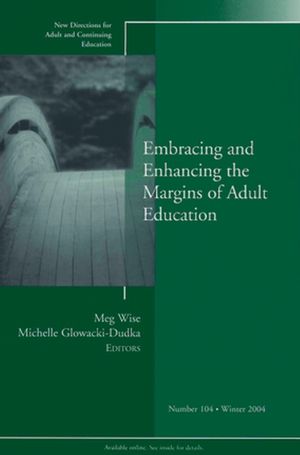 Embracing and Enhancing the Margins of Adult Education: New Directions for Adult and Continuing Education, Number 104
ISBN: 978-0-787-97859-4
Jan 2005, Jossey-Bass
112 pages
Description
No rational field of study or practice would choose to occupy organizational or social margins. Or would it?

Adult educators increasingly risk and resist being placed at the margins of academic and other organizations. This volume argues that depending on how those margins are defined, margins can be a place of creativity and power from which to examine and challenge domincant ideology and practice. Chapters explore advances and effective practices being made in the margins of adult education from several perspectives including community-based programs, interreligious learning, human resource development, African-American underrrepresentation in the academy, and degree granting adult education programs.  Other areas explored include an interdiciplinary Web-based patient education research program and educational focus on citizenship and public responsibility skills.

This volume moves beyond the traditional definition of the margin as a power- and resource-poor position in which individuals are relegated to supporting roles and demonstrates how to embrace, expand, and blend the margins of adult education by collaborating with others to influence the mainstream.

This is the 104th issue of the Jossey-Bass quarterly series New Directions for Adult and Continuing Education. 
Editors' Notes (
Meg Wise, Michelle Glowacki-Dudka
).
1. Adult Education at the Margins: A Literature Review (Michelle Glowacki-Dudka, Lora B. Helvie-Mason)
Adult education has long sat at the margins of the academy and social institutions. This chapter explores the literature related to the historical, philosophical, and contextual issues to explain why.
2. From Margin to Mainstream to Collaboration: Regarding Public Issues (Alan B. Knox)
Adult education's waning emphasis on the citizen's role and focus on public responsibility has accompanied a long-term trend of increasing the visibility and vitality of the adult education's separate provider segments. This chapter presents examples that focus on education for citizenship.
3. Crossing Borders of Religious Difference: Adult Learning in the Context of Interreligious Dialogue (Nadira K. Charaniya, Jane West Walsh)
Since September 11, 2001, interreligious learning is a more crucial focus for inquiry within adult education. This chapter demonstrates how interreligious dialogue between Muslim and Jewish religious communities can promote personal transformation and democratic social change.
4. Supporting Change Through Local Action (Desi Larson)
To improve civil society and achieve the possibilities of globalization, we must incorporate an education-for-empowerment approach through local action and dialogue. This chapter describes one community-based program that exemplifies the potential, promise, and implications of using an emancipatory educational approach.
5. Envisioning Change from the Margins Within: Human Resource Development (HRD) and Corporate Downsizing (Daniela Truty)
Power can be at the confluence of adult education and HRD when we reframe practice into a force for positive organizational change. This chapter discusses how HRD professionals working at the margins can empower people in the workplace.
6. Insider and Outsider Status: An African American Perspective (Sherwood Smith)
African American faculty members hold a dual status in adult education, both marginalized by and central to the field's identity. This chapter explores African Americans' underrepresentation in the academy, their influence on adult education from the margins, and issues of privilege and tokenism.
7. Adult Education Departments in the Entrepreneurial Age (Paul J. Ilsley)
Adult education can leverage the power it gains from the margins to advance the university's mission in the entrepreneurial age. This chapter explores the challenges and strengths of one university's degreegranting adult education program and adds to the discourse about the field's vitality.
8. At the Margins of the Research Enterprise: Learning from an Interdisciplinary eHealth Research Program (Meg Wise, Betta Owens)
Adult education departments face pressures to garner research funding and collaborate with researchers studying adult-lifespan learning issues. This chapter describes an interdisciplinary Web-based patient education research program and discusses implications for adult education research.
9. Embracing and Expanding the Margins of Adult Education (Meg Wise, Michelle Glowacki-Dudka)
The concluding chapter summarizes the volume's key themes and poses questions for future consideration.
INDEX.