Emergency Care of Children and Young People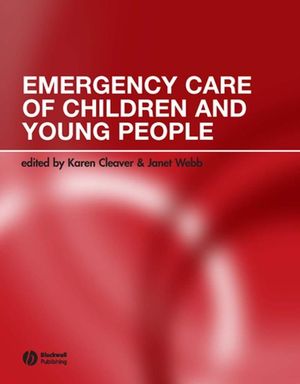 Emergency Care of Children and Young People
ISBN: 978-0-470-69178-6 April 2008 Wiley-Blackwell 200 Pages
Description
Children and young people account for a quarter of all patients treated in emergency departments in the UK, with three million children attending emergency departments every year. Emergency Care of Children and Young People prepares practitioners for the challenges of caring for children in emergency departments. Children requiring emergency care have unique and differing needs and may not respond or cooperate during an initial assessment as an adult would.





Emergency Care of Children and Young People is an essential reference for all health care professionals working with children in the emergency department setting. It explores the key skills needed for effective care and presents the evidence which underpins effective practice in an accessible and informative format. Emergency Care of Children and Young People covers a complete range of topics including legal and ethical aspects, minor injuries, major trauma, effective ways to communicate with children through the use of play and distraction, meningitis and resuscitation.
1 Setting the Scene: The Context of Emergency Care for Children and Young People.
2 Principles of Emergency Care for Children and Young People.
3 Legal and Ethical Emergency Care of Children.
4 Safeguarding and Protecting Children: The Roles and Responsibilities of the Emergency Care Practitioner.
5 Meeting the Specific Needs of Young People Attending the Emergency Department.
6 Treatment and Management of Minor Injuries.
7 The Principles of Assessment and Management of Pain in Children and Young People Attending an Emergency Department.
8 Emergency Care of the Critically Ill or Seriously Injured Child.
9 Paediatric Resuscitation.
10 Emergency Care and Management of Children with Acute Respiratory Illness.
11 The Assessment and Management of Paediatric Fever in the Emergency Setting.
12 Emergency Care of Children with Sickle Cell Disease: One Family's Experience.
13 Emergency Care of Children and Young People with Diabetic Ketoacidosis
* Accessible, comprehensive guide
* Presents clear evidence-based guidelines for practice
* Addresses all aspects of emergency care of children and young people
* Includes case studies and scenarios