Emergency Medicine: Topics and Problems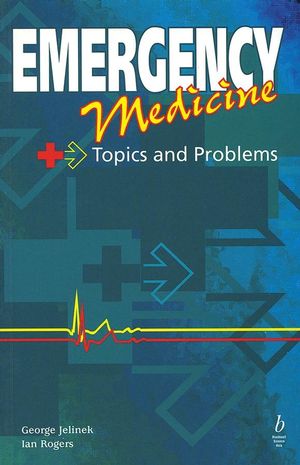 Emergency Medicine: Topics and Problems
ISBN: 978-0-867-93013-9
Nov 1999, Wiley-Blackwell
198 pages
Product not available for purchase
Description
A concise and practical guide for undergraduate medical students covering 50 common problems in emergency medicine, including questions and short answers. This book has been developed to ensure that medical students are equipped with the necessary knowledge and skills required to manage common emergencies. By providing simple clinical guidelines and information about the common medical problems and situations they may encounter in their hospital attachments, students should be able to easily and quickly acquire these skills The topics chosen represent the core of the unique body of knowledge that is emergency medicine.
Preface.
Part 1: Emergency Medicine Topics.
Advanced Life Support.
Guidelines for Cardiopulmonary Resuscitation/advanced Cardiac Life Support.
Cardiac Arrest.
Arrest Drug Rationales.
Cardiac and Respiratory Arrest in Children.
Failed Airway Management.
Respiratory Emergencies.
Severe Asthma.
Pulmonary Oedema.
Pulmonary Embolism.
Pneumothorax.
Cardiac Emergencies.
Management of Other Arrhythmias.
Myocardial Infarction/thrombolysis.
Thrombolysis Protocols in AMI.
Trauma.
Multi-trauma.
Burns.
Volume Resuscitation.
Head Injury.
Cervical Spine X-rays.
Shoulder dislocations.
Colles Fracture.
Procedures.
Intravenous Cannulation.
Central Lines.
Arterial Puncture.
Intravenous Arm Block.
Intravenous Sedation.
Simple Nerve Blocks.
Suturing.
Urinary Catheter Insertion.
Lumbar Puncture.
Environmental Emergencies.
Hypothermia.
Hyperthermia.
Near Drowning.
Aeromedical Transport.
Poisoning and Envenomation.
Toxicology: Common Ingestions.
Carbon Monoxide Poisoning.
Snake Envenomation.
Redback Spider Bite.
Box Jellyfish Envenomation.
Stonefish Envenomation.
Blue-ringed Octopus Envenomation.
Neurological Emergencies.
Status Epilepticus.
Migraine.
Subarachnoid Haemorrhage.
Coma.
Paediatrics.
Croup / Epiglottitis / Bronchiolitis.
The Child at Risk.
The Febrile Child.
Intraosseous Infusions.
Other Emergencies.
Diabetic Emergencies.
Acute Anaphylaxis.
Acute Pain Management.
Epistaxis.
Suicide Risk Assessment.
Triage.
Standard Precautions.
Part 2: Clinical Problems for Students.
Problem 1 (poisoning).
Problem 2 (acute shortness of breath).
Problem 3 (acute chest pain).
Problem 4 (trauma).
Problem 5 (near drowning / hypothermia).
Problem 6 (arrhythmias)
"...an excellent introduction to major emergency medicine topics.

The practical approach adopted, and the addition of six clinical problems highlighting important points, make it a good primer for students during their emergency department attachment...well written, easy to read, and laid out so simply that an index is not required. Its clinical examples would make useful teaching tools during an emergency department rotation, and indeed, were probably conceived as tutorial exercises."
Medical Journal of Australia
"Topics are nicely laid out and the authors are very successfully cut out all the waffle, which makes this book quite fun and easy to read...I think this is an excellent buy for medical students, especially for those in their first two clinical years. Rating 4 out of 5" Barts and the London Chronicle
* Essential study aid and self-assessment tool for medical students
* Features real life clinical case scenarios with questions and short answers
* Covers a combination of common and unusual emergency presentations in a practical and hands-on manner
* Provides clear clinical guidelines and practical tips from two experienced lecturers and leading experts in the field