Emergency Surgery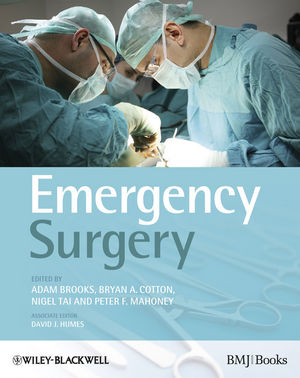 Emergency Surgery
ISBN: 978-1-444-31518-9 February 2010 BMJ Books 228 Pages
Description
Emergency Surgery provides both a practical guide and an understanding of the issues that need to be considered in the management of emergency surgery patients. It presents a clear account of the key issues involved in the assessment, investigation, resuscitation and surgical management of patients who present to the on-call emergency team.

It considers the full breadth of issues encountered in these patients including anaesthesia, pre-op resuscitation/optimization, and initial post-operative care including preliminary high dependency/critical care, as well as the complications and acute issues found in acute surgical patients on the ward.

It is ideal for surgical trainees as well as trainees from other specialties involved in the care of these complex and challenging patients.

This title is also available as a mobile App from MedHand Mobile Libraries. Buy it now from Google Play or the MedHand Store.
List of Contributors.
Part 1 Approach.
1 The Initial Approach to the Emergency Surgery Patient (Adam Brooks & J. Alastair D. Simpson).
2 Preoperative Considerations (Paul Wood).
3 Emergency Anaesthesia (Giles R. Nordmann).
4 Analgesia (Jeff L. Tong).
Part 2 Abdomen.
5 Acute Appendicitis (Tom Palser, David J. Humes & Adam Brooks).
6 Colonic Diverticulosis (David Luke & Douglas M. Bowley).
7 Biliary Colic and Acute Cholecystitis (Tom Palser & Mark Taylor).
8 Perforated Peptic Ulcer (A. Morris & Mark J. Midwinter).
9 Fulminant Colitis (Deborah Nicol & Richard L. Wolverson).
10 Mesenteric Ischaemia (Justin Manley & Tracy R. Bilski).
11 Acute Upper Gastrointestinal Haemorrhage (John S. Hammond).
12 Lower Gastrointestinal Bleeding (J. Alastair D. Simpson).
13 Acute Pancreatitis (Euan J. Dickson, Colin J. McKay & C. Ross Carter).
14 Small Bowel Obstruction (J. Edward F. Fitzgerald).
15 Surgical Jaundice and Cholangitis (John S. Hammond & Ian Beckingham).
16 Large Bowel Obstruction (Igor V. Voskresensky & Bryan A. Cotton).
17 Emergency Surgical Management of Herniae (John Simpson & David J. Humes).
Part 3 Vascular.
18 Ruptured Abdominal Aortic Aneurysm (Ross Davenport & Nigel Tai).
19 Acute Limb Ischaemia (Matthew Button & Nigel Tai).
Part 4 Soft Tissue Infection.
20 Superficial Sepsis, Cutaneous Abscess and Necrotising Fasciitis (Conor D. Marron).
Part 5 Urology.
21 Emergency Urology (Thomas J. Walton & Gurminder S. Mann).
Part 6 Trauma.
22 Abdominal Trauma: Evaluation and Decision Making (Lesly A. Dossett & Bryan A. Cotton).
23 Thoracic Trauma: Evaluation and Decision Making (Stella R. Smith, Thomas König & Nigel Tai).
24 Vascular Trauma (Nigel Tai & Nora Brennan).
25 Damage Control Surgery (Timothy C. Nunez, Igor V. Voskresensky & Bryan A. Cotton).
26 Trauma Laparotomy (Victor Zaydfudim & Bryan A. Cotton).
27 Operative Management of Thoracic Trauma (Thomas K¨onig & Nigel Tai).
28 Abdominal Trauma: Operative and Non-Operative Management (Roland A. Hernández, Aviram M. Giladi & Bryan A. Cotton).
Part 7 Critical Care.
29 Critical Care (Andrew McDonald Johnston).
30 Postoperative Complications (Abeed Chowdhury & Adam Brooks).
Index.
"The editors have done a marvelous job - this is a very useful book not only for various medical specialists and surgeons, but also for medical students, residents, surgical trainees and others intending to specialize in the types of surgeries covered in this book." (Biz India, 6 February 2012)
"The reader will enjoy the range of diagrams and tables that break up the text . . . this text may be useful for emergency care practitioners, surgical care practitioners, advanced scrub practitioners and experienced scrub practitioners looking to broaden their scope of practice or simply just extend their knowledge." (Journal of Perioperative Practice, 1 January 2011)
"It will be a useful tool in education in general surgery. The price is also affordable. For those who want to immerse themselves a bit more, Current surgical therapy (1) is recommended." (Journal of the Norwegian Medical Association, 18 November 2010)