Emerging Markets: A Practical Guide for Corporations, Lenders, and Investors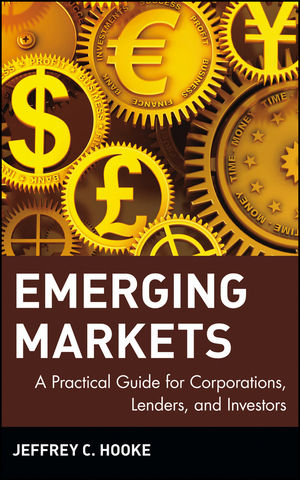 Emerging Markets: A Practical Guide for Corporations, Lenders, and Investors
ISBN: 978-0-471-36099-5
Jun 2001
304 pages
Product not available for purchase
Description
The ins and outs of emerging markets
Emerging markets are an integral part of the global business scene. The 1997 Asian meltdown and the Russian debt default scared investors, but as the domestic market becomes more overvalued, investors have begun seeking returns elsewhere. Destined to become a standard in the field, Emerging Markets fills the niche for a balanced evaluation of the investment opportunities in the riskiest markets throughout the world. This practical guide covers what an emerging market is, why corporations and investors should or should not invest in them, and what the risks are. Jeffrey Hooke's new book is ideal for corporations and investors who are starting to look to emerging markets as ways to improve investment returns, expand into new markets, or diversify their portfolios.
Jeffrey C. Hooke (Chevy Chase, MD) is Managing Director of Hooke Associates, LLC, an investment banking firm. He was formerly director of Emerging Markets Partnership, a $4 billion fund focusing on emerging markets, and senior investment officer of the World Bank Group.
Introduction.

What is an Emerging Market?

Business Climate.

What Attracts Multinational Firms to the Emerging Markets?

The Export Platform.

Reason for U.S. Firms to Avoid Emerging Markets.

Portfolio Investment.

Valuation Case Study.

Commercial Lending and Fixed Income Investment in the Emerging Markets.

Foreign Lenders and Troubled Borrowers.

Latin America.

Asia.

Eastern Europe.

Africa.

Closing Thoughts on Emerging Markets.

Notes.

Index.
The turbulence of the late 1990s in emerging markets has tempered the enthusiasm of many Western investors. In this new climate, it is more important than ever for developing countries to attract foreign investment to achieve economic advancement and poverty reduction.
In this book, Jeffrey Hooke, a former investment officer with the International Finance Corporation who now heads his own investment banking firm, provides both Western investors and development professionals with a comprehensive guide to the various opportunities and pitfalls associated with that they can encounter in dealing with emerging markets. He defines what emerging markets are (and what they are not)and discusses why multinational firms should invest in them, reviewing some of the obstacles to investment, including hidden barriers to entry, capricious government actions, sudden setbacks in a country's economic performance, devaluations, and the lack of information. His account is illustrated by descriptions from his own experiences and those of other investors in Africa, Asia, Eastern Europe, and Latin America. (Finance & Development, A quarterly magazine of the IMF, September 2001, Volume 38, Number 3)

"...this book provides a clear understanding of what emerging markets are..." (Moneywise, November 2001)