Emerging Tools for Single-Cell Analysis: Advances in Optical Measurement Technologies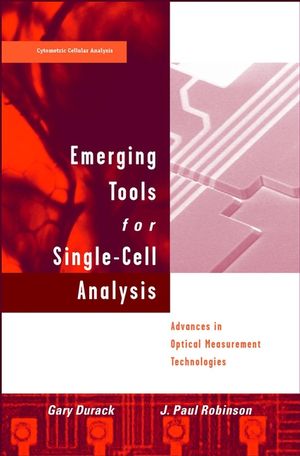 Emerging Tools for Single-Cell Analysis: Advances in Optical Measurement Technologies
ISBN: 978-0-471-31575-9 May 2000 359 Pages
Description
The resurgence of interest in high-resolution evaluation of single-cell properties has led to examining where current technology stands at the beginning of a new millennium. Engineers and scientists have produced significant advances in cytometric technologies in just the past few years. Emerging Tools for Single-Cell Analysis: Advances in Optical Measurement Technologies stresses the applications and theories behind some of these advances in cell measurement and cell- sorting technologies.

Rapid assessment of the proper function of cells and molecular processes within cells is essential. To that end, new and varying technologies present important diagnostic and prognostic tools relevant to a variety of diseases. Future developments in miniaturization of electronics, micro- and nanomachines, and biomedical engineering are certain to impact cell biology. New analytical technologies are revolutionizing our ability to functionally characterize, isolate, and manipulate single cells. This timely book offers researchers and design engineers much-needed information as they further develop technologies for cell analysis.

By comparing and contrasting various approaches, the authors explain how those technologies converge toward similar goals: evaluating the properties of cells and sorting cells on those properties using optically-based measurement systems. Emerging Tools for Single-Cell Analysis offers scientists and engineers a vision of the exciting possibilities that exist as new technologies are applied to single-cell analysis,
Table of contents
Cell-Sorting Technology (G. Durack).

High-Speed Cell Sorting (G. van den Engh).

Rare-Event Detection and Sorting of Rare Cells (J. Leary).

Applications of High-Speed Sorting of CD34¯+ Hematopoietic Stem Cells (T. Leemhuis & D. Adams).

Microfabricated Fluidic Devices for Single-Cell Handling and Analysis (D. Beebe).

Single DNA Fragment Detection by Flow Cytometry (R. Habbersett, et al.).

Fluorescence Lifetime Imaging: New Microscopy Technologies (W. Yu, et al.).

Fluorescence Lifetime Flow Cytometry (J. Steinkamp).

Application of Fluorescence Lifetime and Two-Photon Fluorescence Cytometry (D. Weaver, et al.).

Probing Deep-Tissue Structures by Two-Photon Fluorescence Microscopy (C.-Y. Dong, et al.).

Limits of Confocal Imaging (J. Pawley).

Scanning Near-Field Optical Imaging and Spectroscopy in Cell Biology (V. Subramaniam, et al.).

White-Light Scanning Digital Microscopy (J. Robinson & B. Gravely).

Illumination Sources (H. Shapiro).

Camera Technologies for Cytometry Applications (K. Castleman).

Index.
Reviews
"American...scientists in engineering and biology explore the direction of current cytometric technology, stressing the applications of these advances in cell measurement and cell-sorting." (SciTech Book News, Vol. 24, No. 4, December 2000)