Emotionally Intelligent Leadership for Students: Development Guide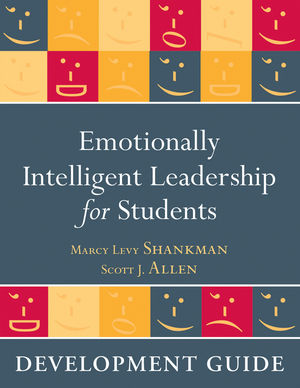 Emotionally Intelligent Leadership for Students: Development Guide
ISBN: 978-0-470-61573-7
Aug 2010, Jossey-Bass
176 pages
Description
The EILS Development Guide is meant to be used as a companion to the EILS Inventory, which offers a valid and reliable, quantitative and qualitative, self assessment of emotionally intelligent leadership skills. The EILSDevelopment Guide contains guidance for students who want to develop each of the 21 capacities, including: definitions for each capacity, student quotes, suggested leadership development experiences and activities, suggested further reading and films to watch, other learning opportunities, notable quotes, and reflection questions.
Acknowledgments.
About the Authors.
Developing Emotionally Intelligent Leadership.
Capacity 1: Environmental Awareness.
Capacity 2: Group Savvy.
Capacity 3: Emotional Self-Perception.
Capacity 4: Honest Self-Understanding.
Capacity 5: Healthy Self-Esteem.
Capacity 6: Emotional Self-Control.
Capacity 7: Authenticity.
Capacity 8: Flexibility.
Capacity 9: Achievement.
Capacity 10: Optimism
Capacity 11: Initiative.
Capacity 12: Empathy.
Capacity 13: Citizenship.
Capacity 14: Inspiration.
Capacity 15: Influence.
Capacity 16: Coaching.
Capacity 17: Change Agent.
Capacity 18: Conflict Management.
Capacity 19: Developing Relationships.
Capacity 20: Teamwork.
Capacity 21: Capitalizing on Difference.
Appendix A: EIL Overview.
"Students who master emotionally intelligent leadership will find the skills transferable to all future professional and personal endeavors.
Emotionally Intelligent Leadership for Students: Development Guide
is a one of a kind book which enables student leaders to have a variety of resources to develop their EIL skills." —Allison St. Germain, Director of Educational Technologies, Delta Zeta Sorority
"Simply put, Shankman and Allen's work equips students for the immense challenge of leadership.  Emotionally Intelligent Leadership for Students: Development Guide is chock full of useful ideas that can be applied immediately to increase leadership effectiveness." —Ed O'Malley, President and CEO, Kansas Leadership Center
"Finally! Shankman and Allen have pulled together the very best resources for focused leadership development from diverse and exhaustive sources. This book is the epitome of one-stop shopping." —Don DiPaolo, Associate Professor, Detroit Mercy
  "Current events have caused us to reconsider the CEO-worshipping of the past two decades, encouraging us to invest in the potential of college students—our next generation of leaders.  Shankman and Allen provide an intriguing model for developing emotionally intelligent leaders who understand the complexities of and champion the cause for authentic human relationships, thriving organizations, and vibrant communities." —Tom Matthews, Director, Career Center Case Western Reserve University
 "Shankman and Allen have provided a strong theoretical framework on Emotionally Intelligent Leadership and the student development guide is a perfect complement to their work.  It is easy to understand and allows for students to work at their own pace in strengthening their EI. The suggestions provided are relevant to today's students and enhances the work of leadership educators." —Mallory Anderson, director, The Center for Leadership, Elon University