Empire and Beyond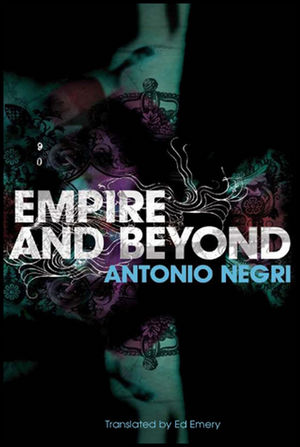 Empire and Beyond
ISBN: 978-0-745-64048-8 December 2008 Polity 300 Pages
Download Product Flyer
Download Product Flyer
Download Product Flyer is to download PDF in new tab. This is a dummy description. Download Product Flyer is to download PDF in new tab. This is a dummy description. Download Product Flyer is to download PDF in new tab. This is a dummy description. Download Product Flyer is to download PDF in new tab. This is a dummy description.
Description
Today, Empire no longer has an outside: it no longer tolerates realities external to itself. Hence every war cannot but be a civil war, an internal battle, a domestic strife. But if the enemy is always within, militarization is part and parcel of normalization and every war necessarily appears as a policing operation. And yet has the sun really set on the old materialist dream of transforming social conflict into the beginnings of liberation? In the cracks of Empire one can discern an emergent capacity to remould the world. The anti-Empire is represented by the multitude, the collection of impassioned and desiring individuals whose potential for action offers the best hope for a better world.
In this book Antonio Negri explains the key concepts and methods which he and Michael Hardt have used to analyse Empire and the new forms of power and counter-power that are shaping and reshaping our world today. Through five introductory lectures and several supporting texts Negri constructs a democratic discourse on globalization, renews the premises of a materialist analysis of social and political life and offers some glimpses of the future.
Table of contents
PREFACE.
PART ONE.
Empire and beyond.
THE EMPIRE AND BEYOND, APORIAS AND CONTRADICTIONS.
AN AXIOMATICS FOR EMPIRE.
CRUCIAL TRANSITIONS IN EMPIRE.
EMPIRE AND WAR.
TENDENCIES AND DRIVES TOWARDS THE RECOMPOSITION OF ARISTOCRACY IN EMPIRE.
UTOPIAS AND RESISTANCE IN EMPIRE.
EMPIRE AND CITIZENSHIP.
LIVING THE IMPERIAL TRANSITION – IN ORDER TO STRUGGLE.
RESISTANCE AND MULTITUDE.
THE MONSTROUS MULTITUDE.
MULTITUDO, UTOPIA STATION.
PEACE AND WAR.
ART AND CULTURE IN THE AGE OF EMPIRE AND THE TIME OF MULTITUDES.
MARX / IMPERO-IMPERIALISM.
PART TWO:.
Europe – Opportunities For Struggle.
EUROPE AND EMPIRE: ISSUES AND PROBLEMS.
EUROPE AND THE UNITED STATES IN EMPIRE.
EUROPE BETWEEN UNIVERSALISM AND NATIONAL DIFFERENCES: A POSSIBLE EUROPE.
A THOUSAND EUROPEAN ISSUES.
NOTES ON LAYING THE BASIS FOR FOREIGN POLICY IN THE EUROPEAN UNION.
PART THREE.
Post-socialist politics.
SOCIAL ALTERNATIVES TO NEOLIBERALISM.
A POST-SOCIALIST POLITICS WITHIN EMPIRE.
THE NEW PHASE OF EMPIRE.
URBAN DEMOCRACY.
FOR A NEW WELFARE.
.
PART FOUR.
Political philosophy in imperial post-modernity.
POST-MODERNITY AND LIBERTY.
THE COMMUNISM OF IMMANENCE.
BIO-POWER AND SUBJECTIVITY.
MULTITUDE AND BIO-POWER.
EMPIRE AND WAR.
REFORMING THE LEXICON OF POLITICS.
THE BIO-POLITICS OF GENERAL INTELLECT.
THE PHILOSOPHY OF "OLD EUROPE".
THE ACTOR AND THE SPECTATOR: IMMATERIAL LABOUR, PUBLIC SERVICE, INTELLECTUAL COOPERATION AND THE CONSTRUCTION OF THE COMMON.
REAL TIME AND THE TIME OF EXPLOITATION.
A NEW FOUCAULT?.
POST-MODERNITY OR CONTEMPORANEITY?
Reviews
"Empire and Beyond and Reflections on Empire offer accessible points of entry to Negri's project with Hardt, which build, in their cumulative effect, to a sophisticated reflection upon its key ideas and their evolution - one that rewards close reading, even among those already familiar with his work."
Marx and Philosophy

Features
An important new book by the author of the international bestseller
Empire
.
Negri clarifies and elaborates the key themes and ideas that underpin his work in Empire and Multitude, including new political movements, the forms of order and resistance within Empire and the possibility of politics in our postmodern world.

Negri is widely recognized as one of the leading social and political theorists in the world today.

This book will appeal to a wide range of readers who follow his work and who are interested in contemporary social and political developments.