Empires and Colonies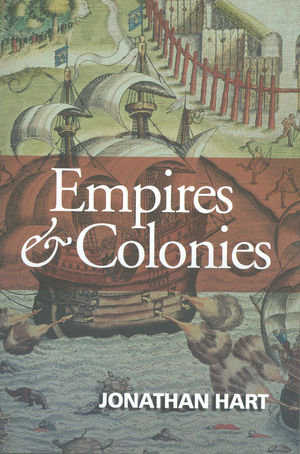 Empires and Colonies
ISBN: 978-0-745-65518-5 February 2014 Polity 400 Pages
Description
Empires and Colonies
provides a thoroughgoing and lively exploration of the expansion of the seaborne empires of western Europe from the fifteenth century and how that process of expansion affected the world,
including its successor, the United States.
Whilst providing special attention to Europe, the book is careful to highlight the ambivalence and contradiction of that expansion. The book also illuminates connections between empires and colonies as a theme in history, concentrating on culture while also discussing the rich social, economic and political dimensions of the story.

Furthermore, Empires and Colonies recognizes that whilst a study of the expansion of Europe is an important part of world history, it is not a history of the world per se. The focus on culture is used to assert that areas and peoples
that lack great economic power at any given time also deserve attention. These alternative voices of slaves, indigenous peoples and critics of empire and colonization are an important and compelling element of the book.
Empires and Colonies will be essential reading not only for students of imperial history, but also for anyone interested in the makings of our modern world.
Table of contents
Preface and Acknowledgements.
Introduction.
1. First Expansion: 1415-1517.
2. From the Reformation to English and French Settlements in the New World: 1517-1608.
3. The Relative Decline of Portugal and Spain: 1608-1713.
4. The Rise of Britain and France: 1713-1830.
5. High Imperialism: 1830-1914.
6. European Civil War and World Conflict: 1914-1945.
7. Decolonization or Neo-imperialism: 1945 to the Present.
8. Conclusion
Reviews
"To contain the story to an accessible 387 pages, Hart uses 1415 as the starting date. Even so, the book is striking in its scope, managing to extend the topic back to classic antiquity and such famed minds as Socrates, Plato, Aristotle and Aristotle's famed student, Alexander the Great."
Calgary Herald
"This is a book of majestic synthesis, a tour de force and a timely reminder of the persistence of empires and imperialism in the political imagination."
Jeremy I. Adelman, Princeton University
"Empires and Colonies covers, in great depth, the entire tangled and tragic history of European empire-building - a powerful, wide-ranging book which is not only a history but also a significant contribution to an important contemporary political debate."
Anthony Pagden, University of California, Los Angeles
Features


A thorough exploration of the expansion of Western empires from the fifteenth century to the present day

Provides an invaluable overview of the history of Western civilisation that will be ideal for student use

Gives full attention to the alternative voices of slaves, indigenous peoples and critics of empire and colonisation to highlight the counter-history

Stresses key themes in the story of empires and colonies, such as economics, religion, culture and technology

Will be essential reading not only for students of imperial history but also anyone interested in the makings of the modern world