Employment Relations in Britain: 25 years of the Advisory, Conciliation and Arbitration Service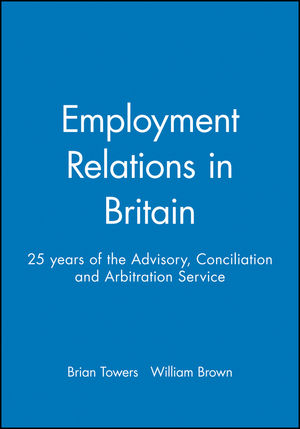 Employment Relations in Britain: 25 years of the Advisory, Conciliation and Arbitration Service
ISBN: 978-0-631-22326-9 November 2000 Wiley-Blackwell 220 Pages
Description
This volume brings together contributions from eminent academics and senior ACAS officials to provide a fascinating account of the agency's achievements, failures and remarkable survival during a period of political upheaval and dramatic economic and industrial relations change.
Table of contents
1. Introduction: John Houghton (Chairman, ACAS).
2. The First Quarter Century: William Brown (University of Cambridge) and Brian Towers (Nottingham Trent University).
3. Setting the Pace or Running Alongside? ACAS and the Changing Employment Relationship: Bill Hawes.
4. Building Bridges and Settling Differences: Collective Conciliation and Arbitration Under ACAS: John Goodman.
5. Doing More With Less: ACAS and Individual Conciliation: Linda Dickens.
6. Doing it with Style: The Work of the ACAS Conciliator in Individual Employment Rights Cases: Gill Dix.
7. Learning from a Repeating History? ACAS and Trade Union Recognition: Stephen Wood.
8. Supporting Collective Bargaining: Some Comparative Reflections: Bob Hepple.
9. After Collective Bargaining? ACAS in the Age of Human Resource Management: John Purcell.
10. The Best and the Worst of Times: Survival and Progress, 1974-2000 and Beyond: Brian Towers and William Brown.
Reviews
"This book provides an admirably concise, well referenced source of information..." Industrial Law Journal, Vol 30.