Empowering Dialogues Within: A Workbook for Helping Professionals and Their Clients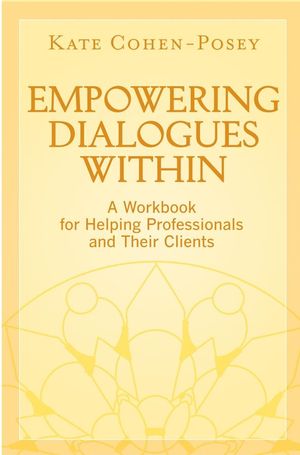 Empowering Dialogues Within: A Workbook for Helping Professionals and Their Clients
ISBN: 978-0-470-29258-7
Jul 2008
192 pages
Description
Immersed with wisdom, Empowering Dialogues Within is a unique client workbook filled with narratives, case vignettes, and exercises, providing mental health professionals with a broad-based toolkit to help clients become more self-aware. It is filled with instructive case examples and practical advice for building clients? confidence, wisdom, and sense of wellness and a foundation for lifelong strength and growth.
Chapter 1. Discovering the True Self.
Psychological Pioneers.
The Corporate Self.
Development Of Higher Selves.
Recognition Of Higher Selves.
Chapter 2. Exercises for Empowering the Self.
Finding the Self through Memories.
Empowering the Will.
Synthesizing the Self.
Recognizing and Remembering Spirit.
Chapter 3. Identifying Personality Parts.
Psychological Pioneers.
The Origin of Inner Parts.
The Corporate Self.
Naming Parts to Return to the True Self.
Chapter 4. Exercises for Identifying Inner Parts.
Personae—The Adaptable Personalities.
Distracters—The Fixed Personalities.
Directors—The Hidden Personalities.
Emotional Entities—The Instinctual Personalities.
Identifying Inner Images.
Identifying Names for Parts and Selves.
Making the Whole Greater than the Sum of the Parts.
Chapter 5. Engaging Personality Parts with Dialogue.
The Mind as Metaphor.
The "Material Mind, and Dialogue".
Steps to the Dance of Dialogue.
Dialogue in a Child's Mind.
Review and Practice Exercises.
Chapter 6. Therapists' Guide to Empowering Dialogical.
Therapy through Dialogue.
Coaching Aides.
Counseling Emotional Entities and Abreaction.
Comparison to Related Approaches.
Chapter 7. Historical Context and Possible Proofs.
Forerunners to Therapies of Parts and Selves.
Philosophical Context and Contributions.
Psycho-Neurological Evidence.
Appendix I. Terminologies for Parts and Selves.
Appendix II. Psychotherapy Approaches Referenced in the Text.
Glossary.
References.
Index of Client Vignettes.
Index of Subject Matter.
Charts, Tables, and Illustrations.
The Corporate Self—Organization of SELVES and Parts.
Involution of the Self.
Mandala Graph Paper.
The Corporate Self—Organization of PARTS and Selves.
Rebecca's Drawing.
Dynamics of the Community of Self.
"…Empowering Dialogues Within may be the answer to your prayers (or to your questions to your Higher Self). Even though the reader's basic approach to therapy might not be psychosynthesis, I felt the author did an excellent job of including psychosynthesis with other ideologies. I would highly recommend this book to any practicing therapist/counselor...I loved this book." (AAP News; January 2009)