EnCase® Computer Forensics: The Official EnCE®: EnCase® Certified Examiner Study Guide, includes DVD, 2nd Edition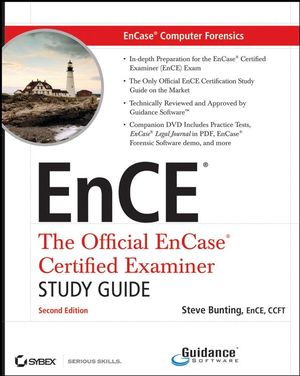 Description
EnCE certification tells the world that you've not only mastered the use of EnCase Forensic Software, but also that you have acquired the in-depth forensics knowledge and techniques you need to conduct complex computer examinations. This official study guide, written by a law enforcement professional who is an expert in EnCE and computer forensics, provides the complete instruction, advanced testing software, and solid techniques you need to prepare for the exam.

Note: CD-ROM/DVD and other supplementary materials are not included as part of eBook file.
Introduction.
Assessment Test.
Chapter 1: Computer Hardware.
Chapter 2: File Systems.
Chapter 3: First Response.
Chapter 4: Acquiring Digital Evidence.
Chapter 5: EnCase Concepts.
Chapter 6: EnCase Environment.
Chapter 7: Understanding, Searching For, and Bookmarking Data.
Chapter 8: File Signature Analysis and Hash Analysis.
Chapter 9: Windows Operating System Artifacts.
Chapter 10: Advanced EnCase.
Appendix A: Creating Paperless Reports.
Appendix B: About the Companion DVD.
Glossary.
Index.
The companion DVD include an evaluation version of the EnCase software and sample evidence files, as well as the EnCase Legal Journal, which highlights the most recent legal issues relating to computer forensics. Also included is the Sybex Test Engine, complete with all the chapter review questions an two bonus EnCE practice exams, as well as  100 electronic flashcards and a PDF of the entire book.

The EnCE certification is recognized by both the law enforcement and corporate communities as a symbol of in-depth forensics knowledge.

IDC predicts the market for computer forensics will more than double by 2009. Starting salaries in the field can range as high as $85,000-$100,000.

Written by leading law enforcement computer forensics specialists and EnCase trainer Steve Bunting.

Includes the EnCase Legal Journal, which is essential for any forensics investigator who needs to operate within the law and give expert testimony.
Chapter
Page
Details
Date
Print Run
Note regarding DVD content
The demo that was included in the book's DVD is a limited version of the EnCase Forensics v6.0 provided to us by Guidance Software. We understand that some of the features of the software are disabled, rendering it unusable with some of the exercises in the book.
3/5/08

---