Enabling Independence: A Guide for Rehabilitation Workers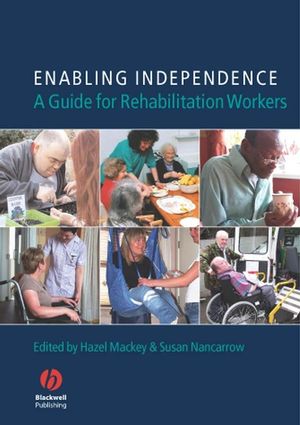 Enabling Independence: A Guide for Rehabilitation Workers
ISBN: 978-1-405-13028-8 July 2006 Wiley-Blackwell 360 Pages
Description
This book is designed as a companion text for the variety of support workers in the field of rehabilitation. It recognises the diversity of roles and array of training and education options; formal routes such as S/NVQ and schemes which are tailored to an individual workplace. Therefore the focus of the book is simply to provide an accessible introduction to rehabilitating the patient, no matter what discipline or service leads this activity.


Enabling Independence provides practical information by reflecting different approaches to assisting with rehabilitation. The first section introduces the framework for the book and considers the philosophy of enablement. The second section is dedicated to 'enhancing function' and details the most common activities of daily living, such as mobility and dressing. This is followed by a 'problem oriented approach' in the third section, which addresses typical problems which support workers are likely to encounter, such as patients who fall or experience fatigue. The final section considers issues in delivering the rehabilitation support, such as team working and supporting carers.
Section 1: The tools of enabling independence
.
Introduction.
Goal Setting.
Teaching for Rehabilitation.
Section 2: Enhancing function.
Introduction.
Case studies.
Mobility and transfers.
Dressing.
Washing.
Food preparation.
Self medication.
Swallowing difficulties.
Going out.
Section 3: Problem based approach .
Communication.
Psychological issues.
Falls.
Continence.
Memory loss.
Fatigue.
Palliative care.
Section 4: Issues.
Carer support.
Life-long learning.
Team working
[This book provides] much needed guidance and examples of good practice for the UK and other interested parties abroad. Many workers (especially in parts of the UK) want to study NVQs and cannot get access to them, so this book will also help them… I like the 'typical day' approach as this gives examples and can answer frequently asked questions. It is also easy for the reader to follow. This book appears to get right into the subject from the workplace level and give a variety of styles, i.e. case studies, problem solving, diagrams… I believe this work is extremely important. There is nothing like it out there and there is a real need for it.
Catherine Smith, Assistants Officer, The Chartered Society of Physiotherapy
'I recommend this book as a companion guide for rehabilitation staff and supervisors. reflective questions and international references make it a must for most physical medicine settings'

Canadian Journal of Occupational Therapy, October 2007


Adopts a client-centred approach across the lifespan

Editors and contributors draw on multi-disciplinary backgrounds to offer sound guidance on everyday issues

Includes feature boxes which provide activities

Interwoven case studies, which follow patients through a typical day

Clearly illustrated with photographs, diagrams and drawings