Encapsulation and Controlled Release Technologies in Food Systems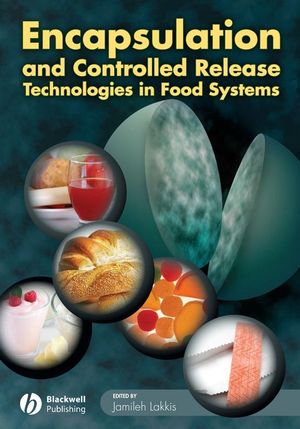 Encapsulation and Controlled Release Technologies in Food Systems
ISBN: 978-0-470-27659-4 February 2008 Wiley-Blackwell 256 Pages
Description
In Encapsulation and Controlled Release Technologies in Food Systems, editor Lakkis has gathered a highly respected collection of expert contributors from industry and academia to highlight recent innovations in encapsulation and controlled release technologies in food systems. Unlike most recent publications which dealt exclusively with theoretical aspects of these technologies, this volume focuses mainly on devising effective and innovative applications in food systems in which these delivery vehicles operate. In addition, the book provides some emphasis on new opportunities that may arise from the development of new materials for the design and fabrication of delivery vehicles and carriers.


Encapsulation and Controlled Release Technologies gives the reader a solid grasp of basic concepts of encapsulation technologies and their novel applications in food systems. Dr. Lakkis also presents novel possibilities of encapsulation and controlled release along with a discussion on future perspectives and economical implications of these technologies.
Preface.
Contributors.
1. Introduction to Encapsulation and Controlled Release in Food Systems.
Jamileh M. Lakkis.
2. Improved Solubilization and Bioavailability of Nutraceuticals in Nanosized Self-Assembled Liquid Vehicles (NSSL).
Nissim Garti, Eli Pinthus, Abraham Aserin, and Aviram Spernath.
3. Emulsions as Delivery Systems in Foods.
Ingrid A.M. Appelqvist, Matt Golding, Rob Vreeker and Nicolaas Jan Zuidam.
4. Applications of Probiotic Encapsulation in Dairy Products.
Ming-Ju Chen and Kun-Nan Chen.
5. Encapsulation and Controlled Release in Bakery Applications.
Jamileh M. Lakkis.
6. Encapsulation Technologies for Preserving and Controlling the Release of Enzymes and Phytochemicals.
Xiaoyong Wang, Yan Jiang, and Qingrong Huang.
7. Microencapsulation of Flavors by Complex Coacervation.
Curt Thies.
8. Confectionery Products as Delivery Systems for Flavors, Health and Oral Care Actives.
Jamileh M. Lakkis.
9. Innovative Applications of Microencapsulation in Food Packaging.
Murat Ozdemir and Tugba Cevik.
10. Marketing Perspective of Encapsulation Technologies in Food Applications.
Kathy Brownlie.
Index


Highlights recent innovations in encapsulation and controlled release technologies in food systems

Discusses future perspectives and economical implications of encapsulation technologies

Strong emphasis on applications rather than theories behind encapsulation

Contributors list includes world-renowned professionals