Encounters: Conversations on Life and Writing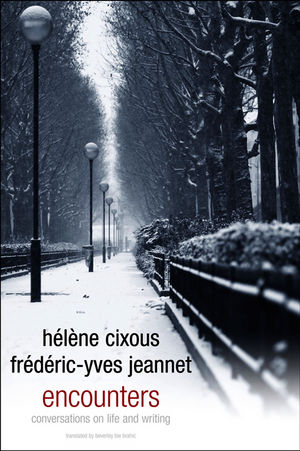 Encounters: Conversations on Life and Writing
ISBN: 978-0-745-65387-7 December 2012 Polity 224 Pages
Description
"Isn't it … particularly difficult to 'speak' of your work?" Frédéric-Yves Jeannet asks Hélène Cixous in this fascinating book of interviews. "[I]t's only in writing, on paper, … that I reach the most unknown, the strangest, the most advanced part of me for me. I feel closer to my own mystery in the aura of writing it," Cixous responds.

These conversations, which took place over three years and cover the creative process behind Cixous's fictional writing, illuminate the genesis and particular genius of one of France's most original writers.  Cixous muses on her "coming to writing," from her first publications to her recent acclaim for a series of fictional texts that spring, as, she insists all true writing does, from her life: the loss of her father when she was a child, and her relationship with her mother, now in her tenth decade, as well as with such friends as Jacques Derrida and Jacques Lacan. The conversations delve into Cixous's career as an academic in Paris and abroad, her summer retreats to the Bordeaux region to write uninterrupted for two months, her work with Ariane Mnouchkine's Théàtre du Soleil, her political engagements and her dreams.  Readers and writers who have followed Cixous's path-blazing career as a fiction writer who crosses boundaries of genre and gender while posing essential questions about the nature of narrative and life will find this a book that cannot be put down.
God
And the Whale
Already everything was there
Dwelling
With
Spew into the sea
Off age's shore
Peruvia
Of maps & of prints
Lazarus
Expire
Write in Tongues
Faustes
Clearsee
Unfinish the Story & History
Just before the paper
The forgetread
Other addresses
The fear of names
Dragonflies
Slight uneasiness the masculine
Preteritions
But the Earth goes round, not too badly
Our centuries
The Shelves
Walls
The body writes
Measures
Tempo
The grace the galloping
God's Returns
"This wonderfully sympathetic conversation about writing is like a magic animal in a fairytale. Follow, and it will take you through the diverse joys, dangers, surprises and landscapes of Cixous's writing life, towards the intransigent questions that animate everybody who lives."
Sarah Wood, The University of Kent
"These interviews, which take Cixous back over her writing history, are fascinating encounters as much between the author and her (past) self as with Frédéric-Yves Jeannet. Encounters is essential reading for anyone interested in Cixous."
Mairéad Hanrahan, University College London
Cixous is generally regarded as one of the leading French feminist writers.
This is a very revealing set of interviews with Cixous in which she discusses her life and work, including her creative method, her distinctive style and the central themes of some of her most important books. She also talks freely about her own literary tastes, ranging from her love for Joyce to and respect for Proust to her lack of interest in the nouveau roman. The interviews were conducted by another French writer, Frédéric-Yves Jeannet.
The text is very engaging and accessible and it draws the reader in to Cixous's world very effectively. It is an excellent introduction to her work.
This book will be of great interest to anyone who reads and enjoys Cixous's work. It will also be a very welcome text for students of Cixous and of contemporary French theory and literature.