Encyclopedia of Agrochemicals, 3 Volume Set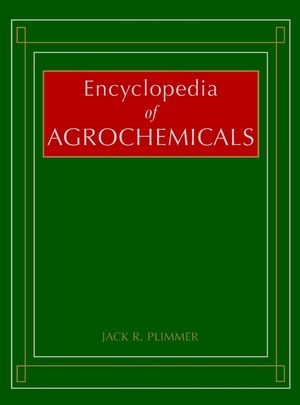 Encyclopedia of Agrochemicals, 3 Volume Set
ISBN: 978-0-471-19363-0 December 2002 1638 Pages
Download Product Flyer
Download Product Flyer
Download Product Flyer is to download PDF in new tab. This is a dummy description. Download Product Flyer is to download PDF in new tab. This is a dummy description. Download Product Flyer is to download PDF in new tab. This is a dummy description. Download Product Flyer is to download PDF in new tab. This is a dummy description.
Description
This Encyclopedia provides coverage of a wide range of topics contributed by experts world wide. The work emphasizes the chemicals used in agriculture for management of pests, their development, use, metabolism, toxicology and mode of action. These chemicals include pesticides, such as the herbicides (weed killers), insecticides and fungicides. Applications of biotechnology are included as are discussions of natural products and growth regulators. Fertilizers and soil fertility are covered at length as well as the persistence of pesticide residues, their degradation, environmental transport and implications of their residues in the environmental. Toxicological and regulatory implications are included throughout.
Comprehensive range of topics included - emphasizing chemicals used in pest management and soil fertility.
Cover the chemistry, properties, toxicology, biotechnology, regulatory and environmental aspects of agrochemicals.
Expert contributors from around the world.
Provides an introduction to the field of agrochemicals.
Environmental and toxicological aspects are included.
This work is a single source reference containing authoritative articles, definitions, literature citations and suggestions for further reading.
Available as a 3-volume print set or a convenient online edition. For details regarding the online edition please visit Wiley InterScience at www.mrw.interscience.wiley.com/eoa
Table of contents
Acetylcholine Receptors.
Acetylcholinesterase.
Aflatoxin.
Agricultural Hygiene.
Agrocin 84.
Analysis, Instrumentation and Techniques.
Animal Health Products.
Antibiotic Resistance.
Antibiotics.
Auxins, indole auxins.
Avian Repellants.
Avian Species.
Bactericide.
Bacteriocin.
Bioassays, Phytotoxicity to Succeeding Crops.
Biodegradability, Assessment.
Biodegradation in Soil.
Biological Control, Survey.
Biological Control of Plant Diseases.
Biological Control of Weeds.
Biomass, Soil Microbial Biomass.
Biopesticides.
Brassinosteroids.
Capillary Electrophoresis.
Chemical Activators of Disease Resistance.
Chemical Properties Estimation.
Chemotherapy.
Chirality and Chiral Pesticides.
Chitin Biosynthesis Inhibitors.
Chlorocarbons and Chlorohydrocarbons-Toxic Aromatics.
Chromatography, HPLC.
Chromatography, TLC.
CIPAC.
Controlled Release Formulations of Pesticides.
Dibenzo-p Dioxins: 2,3,7,8-Tetrachlorodibenzo-p Dioxin, Reid Disinfection.
Disinfestation.
Economic Issues of US Agricultural Pesticide Use.
Electrophoresis.
Epidemiology of Pesticide Regulation.
Ethylene.
Ethylenebisithocarbamates Analysis.
EU Registration Directive.
Fertilizers.
Flooded Soils.
Food Quality Protection Act of 1996.
Fugacity Modeling.
Fumonisin.
Fungicides, An Overview.
Fungicides, 2-Aminopyrimidines.
Fungicides, Anilopyrimidines.
Fungicides, Antibiotics.
Fungicides, Aromatic Hydrocarbons.
Fungicides, Carbamates.
Fungicides, Copper Compounds and Sulfur.
Fungicides, Dicarboximides.
Fungicides, Dimethomorph.
Fungicides, Fermizone.
Fungicides, Fungal Resistance to Chemical Controls.
Fungicides, Hymexazol.
Fungicides, Induced Resistance Compounds.
Fungicides, Inhibitors of Mitrochondrial Energy Production.
Fungicides, Melanin Biosynthesis Inhibitors.
Fungicides, Multi-site Inhibitors-Broad Spectrum Surface Protectants.
Fungicides, Organophosphorus Compounds.
Fungicides, Phenylamides/Acycalanines.
Fungicides, Phenylpyrroles.
Fungicides, Quinoxyfen.
Fungicides, Soil Fumigants.
Fungicides, Sterol Biosynthesis Inhibitors.
Fungicides, Tubulin-binding Compounds.
Genetic Control of Inserts.
Genetic Engineering.
Genetic Engineering, Plants.
Genetically Modified Microorganisms (GMM) in Soil Environments.
Genetically-engineered Microorganisms for Biodegradation.
Glufosinate.
Groundwater Modeling Tools.
Groundwater Monitoring.
Growth Regulators, Animals.
Herbicide Adjuvants.
Herbicides, An Overview.
Herbicides, Asulam.
Herbicides, Biotechnology for Control of Weeds.
Herbicides, Cellulose Biosynthesis Inhibitors.
Herbicides, Cinmethylin.
Herbicides, Carotenoid Biosynthesis Inhibitors.
Herbicides, Combinatorial Chemistry as Applied to Their Discovery.
Herbicides, Identification of Biologically Active Materials.
Herbicides, Imidazolinone.
Herbicides, Inhibiting 4-Hydroxyphenylpyruvate Dioxygenase (HPPD).
Herbicides, Inhibitors of Photosynthesis at Photosystem II.
Herbicides, Plant Resistance to Herbicides.
Herbicides, Plant Hormone Mimics-Auxins.
Herbicides, Protoporphyrinogen Oxidase Inhibitors.
Herbicides, Pyridine Carboxylate.
Immunoassays.
Inhalation Toxicity.
Insecticides, Mode of Action.
Insecticides, Imidacloprid.
Insecticides, Organochlorines.
Insect Resistance to Insecticides.
IR-4 Program.
Jasmonic Acid.
Juglone.
Kinetics of Microbial Processes and Population Growth.
LD-50.
LC/MS, Pesticide Residue Analysis.
Macropore and Preferential Flow.
Macropore Flow Models.
MALDI.
Metabolic Pathways Evolution.
Metabolism of Herbicides.
Metabolism of Mixtures of Organic Pollutants.
Microcosms.
Minor Use Pesticides, Registration.
Mycotoxin and Mycotoxicoses.
Natural Enemies.
Natural Products Pesticides.
Nematicides.
Nitrate in Ground Water.
Nitrogen Cycle in Soil.
Nitrogen Fixation.
Organophosphorus Insecticides.
Pathways and Measuring Exposure to Toxic Substances.
PCR.
Pesticide Adjuvants.
Pesticide Formulations.
Phosphine and Its Derivatives.
Photosystem I Energy Diverters.
Phytoalexin.
Plant Nutrition.
Pre-existing Defense Chemicals.
Propesticides.
Pyrethroids.
QSAR.
Qualification of Microbial Biomass.
Reductive Dehalogenation.
Regulation of the Commercial Use of Microorganisms.
Regulations and Guidelines in the Workplace.
Regulatory Agencies-Chemical Processes Industry.
Remediation.
Repellants.
Rhizosphere.
Rodenticides.
Soil Bacteria.
Soil Chemistry of Pesticides.
Soil Conditioners, Agricultural Applications.
Soil Distribution of Microorganisms.
Soil Enzymes.
Soil, Movement of Pesticides in Soil Persistance.
Soil Quality, The Role of Microorganisms.
Solid Phase Extraction.
Standard Evaluation Procedures.
Storage Stability.
Streptomycin.
Subsurface Microbial Communities, Diversity of Culturable Microorganisms.
Tetracycline.
Turfgrass Pesticides, Management and Environmental Issues.
Tillage.
Toxicity Testing in Soils.
USDA-ARS Water Quality Data Base.
Volatility of Pesticides.
Vomitoxin.
Weed Species.
Reviews
"The scope of this work extends well beyond a pesticide handbook; however, which should broaden its appeal…recommended for academic and research libraries and for larger public libraries…" (
Library Journal
, May 1, 2003)
"...the editors are to be congratulated for collecting and structuring a genuinely valuable compendium of knowledge." (Pesticide Outlook, April 2003)
"...truly does provide whatever you want to know about agricultural chemicals and chemical technology..." (Veterinary and Human Toxicology, Vol. 45, No. 3, June 2003)