Encyclopedia of Bioterrorism Defense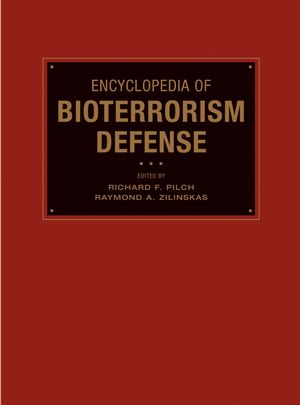 Encyclopedia of Bioterrorism Defense
ISBN: 978-0-471-46717-5 June 2005 555 Pages
Description
This groundbreaking reference marks the first time a publication has attempted to provide complete coverage in the field of bioterrorism. Articles review current knowledge across various disciplines within the context of bioterrorism, covering the most recent developments in areas including bioterrorism agents, biodefense infrastructure, biotechnology, preparedness, threats, threat analysis, and legislation. Relevant biological warfare events are included with a through analysis.

This one-of-a-kind volume:
Includes detailed coverage of such topics as: Biotechnology and Bioterrorism, Bioterrorist Attack--Stages & Aftermath, Detection of Agents, and Psychological & Social Sequelae
Offers a user friendly style, with biological agents covered consistently across entries
Contains over 125 articles
Provides case studies, with discussion of lessons learned
Comprehensively covers the field of bioterrorism, including related science, technology, medicine, politics, law and history
Written by an international panel of experts in the field, this landmark reference supplies essential information to a wide audience of scientists, researchers, physicians, health care professionals, policymakers, historians, journalists, and students.
Buy Both and Save 25%!
Original Price:$1,017.95
Purchased together:$763.46
save $254.49
Cannot be combined with any other offers.
Preface.
Contributors.
Acknowledgment.
Abu Sayyaf Group.
Aerosol.
Agricultural Bioterrorism.
Aliens of America: A Case Study.
Al-Quida.
Animal Aid Association: A Case Study.
Anthrax (Bacillus anthracis).
Anthrax Hoaxes: Case Studies and Discussion.
Anti-Material Agents.
Armed Islamic Group: A Case Study.
Army of God.
Army Technical Escort Unit.
Assassinations.
Aum Shinrikyo and the Aleph.
Baader-Meinhof Gang.
Biological Simulants.
Bioregulators.
Biosecurity: Protecting High Consequence Pathogens and Toxins Against Theft and Diversion.
Biotechnology and Bioterrorism.
Bioterrorist Attack, Stages, and Aftermath.
Botulinum Toxin.
Breeders: A Case Study.
Brucellosis (Brucella spp.).
Camelpox.
CDC Category C Agents.
Centers for Disease Control and Prevention's Bioterrorism Preparedness Program.
Central Intelligence Agency.
Characteristics of Future Bioterrorists.
Chechen Separatists.
Christian Identity.
Consequence Management.
Cost-Effectiveness of Biological Weapons.
Crisis Management.
Cuba.
Dark Harvest.
Dark Winter.
Defense Threat Reduction Agency.
Defense Research and Development Canada-Suffield.
Delivery Methodologies.
Department of Defense.
Department of Health and Human Services.
Department of Homeland Security.
Department of Justice.
Department of State.
Detection of Biological Agents.
Diane Thompson: A case Study.
Director of Central Intelligence Counterterrorist Center.
DoD Policies on Force Health Protection: Medical Defense Against Biological Warfare Agents.
Dual-Use Equipment and Technology.
Dugway Proving Ground.
Edgewood Chemical Biological Center (Formerly Edgewood Arsenal), Aberdeen Proving Ground.
Education for Biodefense.
Epidemiology in Bioterrorism.
Equine Encephalitis, Venezuelen, and Related Alphaviruses.
Ethnic Weapons.
Fatality Management.
Federal Bureau of Investigation.
Food and Beverage Sabotage.
Food and Drug Administration.
Food and Waterborne Pathogens.
Fort Detrick and USAMRIID.
Glanders (Burkholderia mallei).
HAMAS.
Hemorrhagic Fever Viruses.
Hizballah.
Homeland Defense.
Human Immunodeficiency Virus.
Influenza.
Intelligence Collection and Analysis.
International Cooperation and Bioterrorism Preparedness.
International Regulations and Agreements Pertaining to Bioterrorism.
Iran.
Iraq.
Islam, Shi'a and Sunna.
Islamism.
Israel.
Joint Task Force Civil Support.
Korea, Democratic People's Republic of Kurdistan.
Laboratory Response to Bioterrorism.
Larry Wayne Harris.
Lawrence Livermore National Laboratory.
Liberation Tigers of Tamil Eelam.
Libya.
Los Alamos National Laboratory.
Marine Algal Toxins.
Marine Corps Chemical and Biological Incident Response Force.
Mau-Mau.
Media and Bioterrorism.
Metropolitan Medical Response System.
Minnesota Patriots Council.
Minutemen: Case Studies.
Modeling the Public Health Response to Bioterrorism.
National Institutes of Health and National Institute of Allergy and Infectious Diseases.
NATO and Bioterrorism Defense.
North American Militia.
NORTHCOM (U.S. Northern Command).
Office International des Epizooties: World Organization for Animal Health.
Orange October: A Case Study.
Palestine Liberation Organization.
Palestinian Islamic Jihad.
Pharmaceutical Industry.
Pine Bluff Arsenal.
Plague (Yersinia pestis).
POLISARIO.
Prevention and Treatment of Biological Weapons-Related Infection and Disease.
Prion Diseases.
Psychological and Social Sequelae of Bioterrorism.
Public Health Preparedness in the United States.
Rajneesjees.
Republic of Texas: A Case Study.
Ricin and Abrin.
RISE: A Case Study.
Risk Assessment in Bioterrorism.
Sandia National Alboratories.
Scientists, Societies, and Bioterrorism Defense in the United States.
Smallpox.
Staphylococcal Enterotoxins.
Sudan, Republic of.
Suicide Terrorism.
Syndromic Surveillance.
Syria.
Terrorist Group Identification.
Threat Reduction in the Former Soviet Union.
TOPOFF.
TOPOFF 2.
Toxins: Overview and General Principles.
Tularemia (Francisella tularensis).
Typhus, Epidemic (Rickettsia prowazekii).
United Kingdom: Bioterrorism Defense.
United States Department of Agriculture.
United States Legislation and Presidential Directives.
Water Supply: Vulnerability and Attack Specifics.
Weapons of Mass Destruction Civil Support Teams.
Weather Underground: A Case Study.
Index.
"…this encyclopedia has now become an absolute adoption requirement for academic libraries throughout the world." (
Electric Review
, September/October 2006)
"…they have broken new ground." (E-STREAMS, June 2006)
"...immeasurably useful...the information contained in the book should be extremely valuable to all local emergency-planning agencies worldwide." (Journal of Hazardous Materials, February 28, 2006)
"This book is what can be described as a truly wonderful reference source of information relating to all aspects of biosecurity." (Society for General Microbiology, February 2006)
"This timely, much-needed book fills a niche between the very general and very specific items that are currently available...very useful...for anyone seeking readable, authoritative information related to bioterrorism...highly recommended." (CHOICE, December 2005)
"...a sentinel guide in the evolution of medical thinking in response to bioterrorism." (Journal of the American Medical Association, December 14, 2005)