Encyclopedia of Catalysis, 6 Volume Set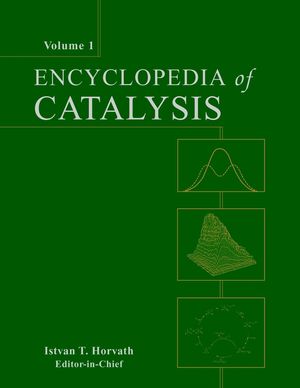 Encyclopedia of Catalysis, 6 Volume Set
ISBN: 978-0-471-24183-6
Dec 2002
4918 pages
Description
Catalysis, the speeding up of a chemical reaction by a substance which itself does not react, is vital not only to the chemical process industry but also to life itself. The six volume Encyclopedia of Catalysis is the definitive A-to-Z reference work covering the most significant aspects of homogenous, heterogeneous, asymmetric, biomimetic, and biological catalysis. Available both on-line and in print, the state-of-the-art Encyclopedia encompasses the principles of catalysis; the scope of catalytic reactions; the preparation, characterization, and use of catalysts (including catalytic technology); the modeling of catalytic processes; and related reaction engineering techniques. The logical organization of this seminal work renders the text easily accessible to both process personnel and those involved in basic and applied research and development.

For more information regarding the online edition, please visit Wiley Online Library: Encyclopedia of Catalysis Online
Acid Base Catalysis.

Acids and Acid Catalysis.

Active Sites.

Acylation-A.

Adsorption.

Aldol Reaction.

Alkylation.

Amidocarbonlation.

Ammoxidation.

Asmmetric Catalysis.

Auto Exhaust Catalysis.

Aziridation.

Bases and Base Catalysis.

Bimetallic Catalysis.

Biocatalytic One-Carbon Conversion.

Biodesulfurization.

Bioorganic Catalysts and Catalysis.

Biphasic Catalysis.

Carbohydrases.

Carbon Dioxide Conversion.

Carbonylation.

Catalysis by Solid Acids.

Catalyst Characterization.

Catalyst Deactivation/Regeneration.

Catalyst Modeling.

Catalyst Preparation.

Catalysts for Fuel Cells.

Catalytic Antibodies.

Catalytic Distillation.

Chiral Catalysts.

Clays and Other Layered Material.

Cobalt Enzymes/Models.

Cofactors in Biocatalysis.

Colloids.

Copper Enzymes/Models.

Cyclization by Homogeneous Catalysts.

Cyclopropanation.

Cyochrome P450/Models.

Dehalogenation.

Dehydrocyclization.

Dehydrogenation.

Diboration.

Disilylation.

Distannylation.

Electrocatalysis.

Epoxidation.

Extremophiles.

Fine Chemicals Synthesis.

Fischer-Tropsch Synthesis.

Heme Proteins and Model Systems.

Heteropolacids.

History of Catalysis.

Homogeneous Catalysts/Catalysis.

Hydroamination.

Hydrodenitrogenation.

Hydrodesulfurization.

Hydroformylation.

Hydrogen Generation.

Hydrogenases.

Hydrogenation.

Hydrosilylation.

Immobilization.

Iron Enzyme/Models.

Isomerization.

Isotope Methods.

Kinases.

Kinetics of Catalyzed Reactions.

Magnesium Enzymes/Models.

Metal Carbides.

Metal Carbonyls.

Metal Nitrides.

Metal Oxides.

Metal Sulfides.

Metallocenes.

Methanation.

Methane Conversion.

Micelles/Micellar Catalysis.

Michael Addition.

Modeling of Catalytic Reactions.

Molecular Sieves: Aluminophosphates.

Nickel Enzymes/Models.

Nitrile Hydratase.

Nitrogen Oxides Removal.

Organometallic Catalytsts/Catalysis.

Oxidative Carbonylation.

Oxychlorination.

Oxygenates Synthesis.

Oxygenation/Oxygenases.

Phase Transfer Catalysis.

Phosphatases.

Photocatalysis.

Radicals in Catalysis.

Reforming.

Ribozymes and RNA Catalysis.

Ring Opening Reactions.

Selective Oxidation.

Selenium in Biocatalysis.

Shape-Selective Catalysis.

Sulfur Oxides Removal.

Supercritical Phase Catalysis.

Synthesis Gas Generation.

Synthetic Metalloporphyrins as Oxidation Catalysts.

Transport Effects in Heterogeneous Catalysis.

Tungsten Enzymes/Models.

Vanadium Enzymes/Models.

Water Gas Shift Reaction.

Whole Cell Catalysis.

Zinc Enzymes/Models.
"...extremely comprehensive encyclopedic textbook...a collection of excellent selective reviews...highly recommended..." (
Choice
, September 2003)
"...heartily recommend [it] as a definitive and essential first reference source for anyone seeking information on any aspect of catalysis." (Chemical Educator, Vol.8, No.4, 2003)