Encyclopedia of Drug Metabolism and Interactions, Volume 6, Clinical Aspects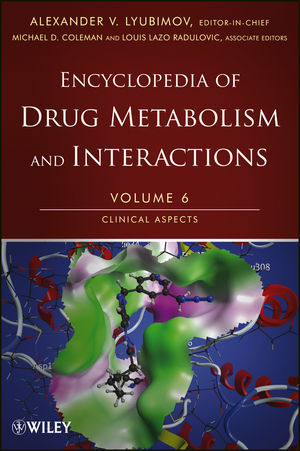 Encyclopedia of Drug Metabolism and Interactions, Volume 6, Clinical Aspects
ISBN: 978-1-118-14979-9
Jul 2012
836 pages
Product not available for purchase
Description
The ideal place to begin researching any question involving drug metabolism and interactions
The Encyclopedia of Drug Metabolism and Interactions provides essential support during all phases of drug development, from drug design to drug action and interaction within the human body. This six-volume work covers both preclinical and clinical aspects of drug metabolism and interactions. It also provides a wealth of toxicological, regulatory, and marketing information, all written and edited by leading international experts in the field.
By collecting and reviewing the current literature in the field in one expertly organized work, this encyclopedia is the ideal place to begin researching any question involving drug metabolism and interactions. Readers will find such important topics and working tools as:
Inhibited or induced enzymes and their impact on drug toxicity and altered response in both animal and human models
Effects of both genetic and non-genetic factors on drug metabolism
Relationships between a drug metabolism, its activation or inactivation, and a drug's potential toxicity/safety
Examples demonstrating all aspects of drug metabolism and interactions in silico, in vitro, in laboratory animals, and in humans
Methods and protocols enabling readers to perform seamless studies of metabolism and drug interactions
All articles are based on recent findings and standards of practice. By reviewing and contextualizing the current literature, the authors offer new perspectives on our current state of knowledge as well as future directions for research in drug metabolism and interactions. References at the end of each article serve as a gateway to the literature.
The Encyclopedia of Drug Metabolism and Interactions is recommended for researchers, physicians, and students at all levels. It introduces the basics to novices and explores the latest science and applications for more experienced investigators.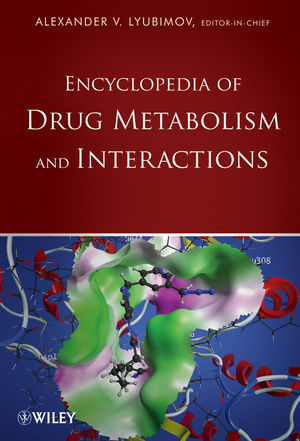 Purchased Together:$1,965.00
Contributors ix
Preface to the Encyclopedia xxiii
Preface—Volume 6 xxvii
PART X Clinical Aspects of Drug Metabolism and Interactions 1
1 Clinical Aspects of Drug Biotransformation: An Overview 3
Michael D. Coleman and Louis L. Radulovic
2 CYP450 Enzymes in Drug Discovery and Development: An Overview 53
Lin Xu, Biplab Das, and Chandra Prakash
3 DDI Risk Assessment and Evaluation in Pharmaceutical Development: Interfacing Drug Metabolism and Clinical Pharmacology 89
Karthik Venkatakrishnan
4 Current and Future Tools for Predicting Clinical Drug–Drug Interactions 151
Peter L. Bullock and Olga V. Trubetskoy
5 Predicting Human Biotransformation Pathways 177
Shelby Anderson, Debra Luffer-Atlas, and Mary Pat Knadler
6 Conjugation, Transport, and Elimination of Drugs in Humans 205
Ronald E. Savage
7 Role and Clinical Consequences of Human UDP-Glucuronosyltransferases 243
Deepak K. Dalvie and Cho-Ming Loi
8 Herb–Drug and Food–Drug Interactions 279
Martin S. Lennard
9 Effects of Liver Disease on Drug Metabolism in Humans 307
Hui-Hui Tan and Thomas D. Schiano
10 Role of Phase I Metabolism in Drug Activation and Clinical Treatment Outcomes 353
Bernard Testa and André Pannatier
11 Role of Metabolism in Toxicity of Drugs in Humans 377
Amit S. Kalgutkar and Jonathan N. Bauman
12 Idiosyncratic Drug Reactions and the Potential Role of Metabolism 403
Jack P. Uetrecht
PART XI Metabolism of Specific Drug Groups and Patient Populations 455
13 Metabolism of Psychotropic Drugs 457
Julia Stingl, Jessica Oesterheld, and Miia Turpeinen
14 Metabolism-Based Consequences of Polytherapy with Antiepileptic Drugs 473
Philip N. Patsalos
15 Oral Chemotherapeutic Agents 499
Shin Ogita, Patricia LoRusso, and Jing Li
16 Drug Metabolism and Interactions in Pediatric Patients 537
Souzan Yanni and Karel Allegaert
17 Population-Based Pharmacokinetic Modeling and Simulation 581
Frédéric Y. Bois and Masoud Jamei
18 Clinical Pharmacology in Drug Labeling. The Impact of Drug Metabolism and Clinical Pharmacology on Recommended Dose of Drugs 609
Stuart Dombey
Index 621