Encyclopedia of Global Environmental Change, Volume 3, Causes and Consequences of Global Environmental Change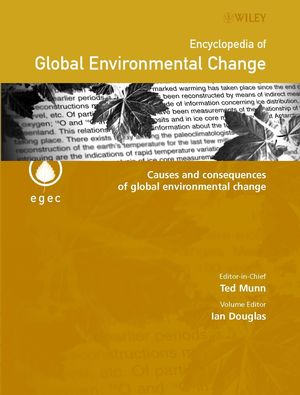 Encyclopedia of Global Environmental Change, Volume 3, Causes and Consequences of Global Environmental Change
ISBN: 978-0-470-85362-7 August 2003 688 Pages
Description
The character of the Earth's surface is constantly changing as a result of the interactions of the great circulations of energy, water and materials that create the biogeochemical cycles between the atmosphere, hydrosphere, lithosphere, cryosphere and biosphere.

In addition human actions, from social and environmental interplay - often termed human ecology - have to be seen as part of a whole Earth system, impacting on biogeochemical cycles to produce feedbacks and responses. Some resulting impacts are readily expected, but others are less easily anticipated and all affect global environmental change.

The task of Volume Three of the Encyclopedia is to look at and analyse the interactions, feedbacks and causes from a holistic viewpoint and report upon some of the key aspects of human knowledge that are required for an integrated science.

Coverage includes:
* Human disturbance of the Earth system

* Global land cover and land use

* Global population trends

* Trends in global emissions

* Water use: Future trends, and environmental and social impacts

* Rice and its spread

* Environmental change and human health

* Environmental changes driven by civil conflict and war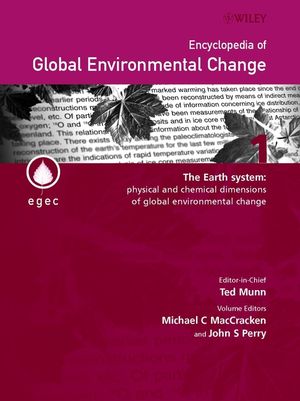 This item: Encyclopedia of Global Environmental Change, Volume 3, Causes and Consequences of Global Environmental Change
Encyclopedia of Global Environmental Change, Volume 1, The Earth System: Physical and Chemical Dimensions of Global Environmental Change
Encyclopedia of Global Environmental Change, Volume 2, The Earth System: Biological and Ecological Dimensions of Global Environmental Change
Encyclopedia of Global Environmental Change, Volume 3, Causes and Consequences of Global Environmental Change
Encyclopedia of Global Environmental Change, Volume 4, Responding to Global Environmental Change
Encyclopedia of Global Environmental Change, Volume 5, Social and Economic Dimensions of Global Environmental Change
Original Price:$7,375.00
Purchased Together:$4,260.00
save $3,115.00
Preface to the Encyclopedia of Global Environmental Change.
Preface to Volume Three.
Human Disturbance of the Earth System: Dynamics and Complexities.
Global land cover and land use trends and changes.
Global Population Trends.
Trends in Global Emissions: Carbon, Sulfur, and Nitrogen.
Anthropogenic Metabolism and Environmental Legacies.
Industrial and Anthroposystem Metabolism.
Water Use: Future Trends, and Environmental and Social Impacts.
Contaminated Lands and Sediments: Chemical Time Bombs?
Rice and its Spread: Double Cropping; New Varieties - Environmental Consequences and Methane Gas, Sustainability.
Environmental Change and Human Health: Extending the Sustainability Agenda.
Environmental Changes Driven by Civil Conflict and War.
Alphabetic Listing of Articles.