Encyclopedia of Life Sciences: Supplementary 6 Volume Set, Volumes 21-26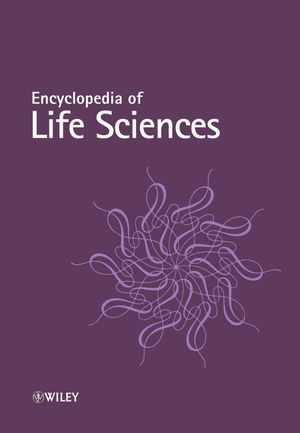 Encyclopedia of Life Sciences: Supplementary 6 Volume Set, Volumes 21-26
ISBN: 978-0-470-06141-1 April 2007 4060 Pages
Description
Spanning the entire spectrum of life science research, the Encyclopedia features more than 4,000 specially commissioned and peer-reviewed articles. These concentrate primarily on the molecular and cellular life sciences, including biochemical topics, methods and techniques. Applied areas of science are also included on a selective basis, as are biographies and general interest articles on ethics and the history of science.

Since the acquisition of ELS from NPG in 2004, Wiley has been adding both new and updated articles to keep readers up-to-date with the relentlessly evolving nature of life sciences, carefully commissioning in areas that have been particularly dynamic on the advice of a specialist board of scientific editors.

Accordingly, in this six-volume work, we have published an additional 650 new and updated peer-reviewed articles that compliment the original print volume set.

By completing the original set with these new articles, the reader is kept up-to-date with research across the life sciences in one complete print product.

Aimed at researchers, students and teachers, articles provide comprehensive and authoritative coverage, written by leaders in the field. Colour illustrations and tables accompany articles, with appendix and glossary material providing essential information for the non-specialist, including biochemical and taxonomic information, acronyms, synonyms, units and other technical data. Importantly, all articles have been peer-reviewed to ensure a balanced representation of the literature.

Articles are divided into three different categories indicating their level of complexity: Introductory, Advanced and Keynote. Introductory articles have been written primarily for undergraduate and non-specialists requiring the basic concepts of a particular subject. Advanced articles provide a more detailed discussion of specialist subjects, equivalent to that found in graduate level texts. Keynote articles provide a platform for debate where controversial issues and 'hot topics' can be discussed.

Coverage includes:
Biochemistry
Cell Biology
Developmental Biology
Ecology
Evolution and Diversity of Life
Functional and Comparative Morphology
Genetics and Disease
Genetics and Molecular Biology
Immunology
Microbiology
Neuroscience
Plant Science
Science and Society
Structural Biology
Virology
Don't miss this great opportunity to own the leading resource in the life sciences.
Abbreviated Table of Contents.
A0002577 Acanthamoeba castellanii Cell Culture.
A0003701 Acorales (Sweet Flag).
A0001706 Adaptation and Natural Selection: Overview.
A0000408 Adeno-associated Viruses.
A0000662 S-Adenosylmethionine.
A0002061 Adventitious Roots.
A0002202 Affective Disorders.
A0003774 Affinity Purification of Antibodies.
A0002346 Agassiz, Jean Louis Rodolphe.
A0001422 Bacterial Cell Differentiation.
A0000447 Bacterial Evolution.
A0001417 Bacterial Genetics.
A0001418 Bacterial Membrane Transport: Organization of Membrane Activities.
A0003743 Bacterial Membrane Transport: Superfamilies of Transport Proteins.
A0000776 Bacteriophages in Industry.
A0001008 Baculoviruses.
A0002078 Bark.
A0000341 Barophiles and Piezophiles.
A0003871 Base Excision Repair, AP Endonucleases and DNA Glycosylases.
A0000792 Caenorhabditis elegans Neural Development.
A0004190 Caenorhabditis elegans Vulval Induction.
A0001501 Caenorhabditis elegans: Determination of Germ Cell Fate.
A0000029 Calcium Channels in Presynaptic Terminals.
A0003757 Calibration of a Transilluminator for UV Fixation of DNA to Nylon Filters.
A0004111 Callose and Related Glucans.
A0003088 Cancer Research, History of.
A0003745 Capillary Blotting of RNA and DNA Gels.
A0000690 Carbohydrates.
A0002112 Cardiac Arrhythmias.
A0003424 De Beer, Gavin Rylands.
A0002469 de Maillet, Benoît.
A0002992 Deconvolution Fluorescence Light Microscopy.
A0003192 Deep Ocean Ecosystems.
A0003166 Demographic Concepts.
A0003789 Denaturation of RNA Using Glyoxal.
A0003779 Denaturing Formamide Polyacrylamide Gels for Separating RNA and DNA.
A0003758 Denaturing Gel Electrophoresis of DNA in Alkaline Agarose Gels.
A0003778 Denaturing Gel Electrophoresis of RNA and DNA Using Urea-Polyacrylamide Gels.
A0002579 Dictyostelium: Cell Culture and Molecular Tools.
A0001615 Echinodermata.
A0003275 Ecological Biochemistry.
A0003208 Ecological Consequences of Body Size.
A0003271 Ecological Methods.
A0003270 Ecological Modelling.
A0003207 Ecology of Storage and Allocation of Resources: Animals.
A0003216 Ecology of Water Relations and Thermoregulation.
A0003206 Ecophysiological Responses of Plants to Air Pollution.
A0003186 Ecosystem Concepts: Introduction.
A0003245 Ecotoxicology.
A0003724 Fagales (Oak).
A0001390 Fatty Acid Biosynthesis.
A0000633 Fatty Acid Oxidation.
A0003067 Fatty Acid Oxidation Disorders.
A0003306 Fibroblast Growth Factors in Development.
A0003752 Filamentous Phage Display.
A0003573 Finlay, Carlos Juan.
A0003252 Fisheries Management.
A0002971 Flow Cytometers.
A0003361 Flowering Plants, Evolution.
A0000121 GABA as a Neurotransmitter and Neurogenic Signal.
A0003586 Gallo, Robert Charles.
A0003731 Garryales.
A0001589 Gastrotricha.
A0003780 Gel Electrophoresis of RNA in Denaturing Formaldehyde Agarose Gels.
A0000816 Gene Conversion.
A0001163 Gene Duplication and Redundancy.
A0003810 Gene Localization by in situ Hybridization: FISH.
A0000809 Genetic Code: Introduction.
A0001787 Genetic Load.
A0002532 Haeckel, Ernst Heinrich Philipp August.
A0002273 Haemoglobinopathies.
A0002298 Heart Failure: Introduction.
A0003673 Helical Imperative: Paradigm of Form and Function.
A0002236 Hepatitis as a World Health Problem.
A0001760 Heterozygous Advantage.
A0003215 Hibernation: Endotherms.
A0002573 Histocultures and Organ Cultures.
A0001154 Histones: From Gene Organization to Biological Roles.
A0002828 Hitchings, George Herbert.
A0004107 Identification of Protein-Protein Interactions.
A0003696 Illiciales.
A0000484 Immune Defence: Role of Reactive Nitrogen Intermediates.
A0000485 Immune Response: Evasion and Subversion by Pathogens.
A0001133 Immune Response: Regulation.
A0002150 Immune Vasculitis.
A0001236 Immunity: Humoral and Cellular.
A0001439 Immunization of Experimental Animals.
A0003760 Immunization of Mice for Monoclonal Antibody Production.
A0003765 Immunodiffusion.
A0002539 Johannsen, Wilhelm Ludwig.
A0002839 Joliot, Frédéric.
A0002840 Joliot-Curie, Irène.
A0003819 Ketone Bodies.
A0003593 Klebs, Edwin.
A0003840 Knockout and Knock-in Animals.
A0003191 Lake Ecosystems.
A0003233 Latitudinal Diversity Gradients.
A0003695 Laurales.
A0002855 Lederberg, Joshua; etc.
A0003273 Macroecology.
A0001771 Macroevolution: Overview.
A0002723 Macromolecular Structure Determination by X-ray Crystallography.
A0000397 Magnetotaxis: Microbial.
A0000176 Magnocellular Neurons.
A0003699 Magnoliales.
A0003717 Malpighiales.
A0003727 Malvales (Mallow).
A0003379 Mammalian Pheromones.
A0003797 Manifold Dot or Slot Blotting of DNA on to Nitrocellulose or Uncharged Nylon Membrane; etc.
A0000114 Neural Circuits: Functional Reconfiguration.
A0003380 Neuroethology.
A0000796 Neuronal Migration.
A0000285 Neurotransmitter Release from Presynaptic Terminals.
A0003045 Neutron Diffraction.
A0001219 Neutrophils.
A0003748 Nick Translation.
A0000245 Nicotinic Acetylcholine Receptors.
A0003189 Nitrogen Budgets.
A0003598 Noguchi, Hideyo.
A0002447 Oken, Lorenz.
A0003115 Optical Mapping.
A0003038 Optical Tweezers.
A0002288 Organic Acid Metabolism: Genetic Disorders.
A0001842 Osmoregulation by Vertebrates in Aquatic Environments.
A0003646 Osmoregulation in Invertebrates.
A0001535 Osteichthyes (Bony Fishes).
A0003719 Oxalidales.
A0003706 Pandanales (Screw Pine).
A0001199 Paramutation in Plants.
A0003809 Parasitism: Life Cycles and Host Defences against Parasites.
A0003156 Parasitism: the Variety of Parasites.
A0002083 Parenchyma.
A0003668 Parent-Offspring and Sibling Conflict.
A0000197 Passive Propagation of Electrical Signals.
A0003382 Patch-clamp Technique.
A0003364 Patenting Plants and Plant Products.
A0002454 Pavlov, Ivan Petrovitch.
A0003772 Quantification of DNA and RNA: a Quantitative Visual Comparison.
A0003755 Quantification of DNA and RNA: A Spectrophotometric Method.
A0000622 Quantification of Metabolic Fluxes.
A0003762 Radioactive Labelling of Antibodies.
A0003793 Radiolabelling Nucleic Acids: Generating DNA Probes by Random Priming.
A0003238 Range Limits.
A0003794 Recovery of DNA from Polyacrylamide or Agarose by Electroelution.
A0002281 Red Cell Membrane and Transport Systems: Hereditary Disorders.
A0003384 Regeneration of Functional Neuronal Connections.
A0001108 Regeneration of Liver.
A0001110 Regeneration of Nervous Tissue.
A0003714 Santalales (Mistletoe).
A0003267 Satellite Remote Sensing of the Environment.
A0003715 Saxifraga (Saxifrages).
A0002082 Sclerenchyma.
A0003182 Secondary Succession.
A0002595 Secretory Granules: Methods for Preparation.
A0000464 Semantides and Modern Bacterial Systematics.
A0004191 Semaphorins.
A0003638 Sensory Processing in Invertebrate Motor Systems.
A0003781 Separation of RNA and DNA in Methylmercuric Hydroxide Denaturing Agarose Gels.
A0004029 T Lymphocytes: Regulatory.
A0001182 Targeted Mutagenesis in the Immune System.
A0003093 Taxonomy, History of.
A0000915 T-cell Receptors.
A0003264 Theoretical Ecology.
A0000526 Thymus.
A0002259 Thyroid Disease.
A0003046 Time-resolved X-ray Crystallography.
A0003276 Time-series Analysis in Ecology.
A0001184 T-lymphocyte Activation.
A0002969 Ultracentrifugation.
A0000309 Ultramicrobacteria.
A0002934 Vane, John Robert.
A0004192 Vertebrate Embryo: Neural Patterning.
A0001823 Vertebrate Metabolism in Extreme Conditions.
A0001091 Viral Capsids and Envelopes: Structure and Function.
A0000440 Viral Classification and Nomenclature.
A0002415 Virchow, Rudolf Carl.
A0000433 Virus Host Cell Receptors.
A0000230 Visual System.
A0002554 Von Behring, Emil Adolf.
A0003555 Walter and Eliza Hall Institute of Medical Research.
A0003126 Watson-Crick Base Pairs.
A0003619 Wellcome, Henry Solomon.
A0003812 Western Blotting Analysis of Translation Products.
A0003388 Whole Animal Cloning.
A0002954 Wilkins, Maurice Hugh Frederick.
A0002955 Wilkinson, Geoffrey.
A0002957 Wilson, Edmund Beecher.
A0002960 Wolff, Caspar Friedrich.
A0002984 X-ray Absorption Spectroscopy.
A0000821 Yeast as a Model Genetic Organism.
A0002578 Yeast Cell Culture.
A0000598 Yeast Mating Type.
A0000380 Yeasts.
A0003687 Zea mays (Maize, Corn).
A0003710 Zingiberales (Gingers and Bananas).