Encyclopedia of Molecular Cell Biology and Molecular Medicine, Volume 11: Proteasomes to Receptor, Transporter and Ion Channel Diseases, 2nd Edition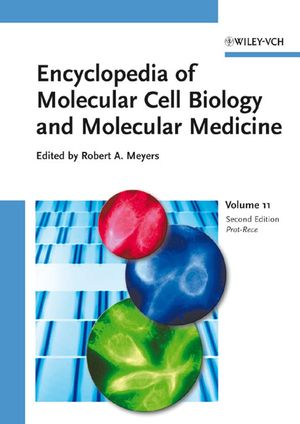 Encyclopedia of Molecular Cell Biology and Molecular Medicine, Volume 11: Proteasomes to Receptor, Transporter and Ion Channel Diseases, 2nd Edition
ISBN: 978-3-527-30648-0 October 2005 Wiley-Blackwell 776 Pages
Description
This sixteen volume encyclopedia is the most comprehensive and detailed treatment of molecular biology, cell biology and molecular medicine available today! It was designed in collaboration with a founding board of 10 Nobel laureates.

The Encyclopedia provides a single-source library of the molecular basis of life, with a focus on molecular medicine. The latest advances of the post-genomic era, e.g. in the fields of functional genomics, proteomics, and bioinformatics are discussed in detail.

All articles are designed as self-contained treatments. Each of the approximately 425 articles begins with an outline and a key word section with definitions. Articles are written in a review-like style complemented with an extensive bipartite bibliography of reviews and books as well as primary papers. A glossary of basic terms completes each volume and defines the most commonly used terms in molecular biology. Together with the introductory illustrations found in each volume, the articles enable readers to understand articles without referring to a dictionary, textbook, or other reference.

Praise for the first edition of the preceding "Encyclopedia of Molecular Biology and Molecular Medicine":

"...an authoritative reference source of the highest quality. ... It is extremely well written and well illustrated..." - American Reference Books Annual (Library & Information Science Annual)

"This series can be recommended without hesitation to a broad readership including students and qualified researchers... . ...articles...set-up facilitates easy reading and rapid understanding. ...overwhelming amount of valuable data." - Molecular Biology Reports

".. highly valuable and recommendable both for libraries and for laboratory use." - FEBS Letters

"This series is a classic..." - Molecular Medicine Today/Trends in Mol

Preface.
Editor-in-Chief.
Editorial Board.
List of Contributors.
Color Plates.
Proteasomes (Martin Rechsteiner).
Protein and Nucleic Acid Enzymes (Daniel L. Purich).
Protein Expression by Expansion of the Genetic Code (Jason W. Chin, Thomas J. Magliery).
Protein Mediated Membrane Fusion (Reinhard John).
Protein Microarrays (Jens R. Sydor, David S. Wilson, Steffen Nock).
Protein Modeling (Marian R. Zlomislic, D. Peter Tieleman).
Protein NMR Spectroscopy (Thomas Szyperski).
Protein Purification (Richard R. Burgess).
Protein Repertoire Evolution of (Christine Vogel, Rajkumar Sasidjaran, Emma E. Hill).
Protein Splicing (Kenneth V. Mills).
Protein Structure Analysis: High-throughput Approaches (Andrew P. Turnbull, Udo Heinemann).
Protein Translocation Across Membranes (Carla M. Koehler, David K. Hwang).
Proteomics (Paula Cutler, Israel S. Gloger, Christine Debouck).
Proton Translocating ATPases (Masamitsu Futai, Ge-Hong Sun-Wada, Yoh Wada).
Pufferfish Genomes: Takifugu and Tetraodon (Melody S. Clark, Hugues Roest Crollius).
Quantitative Analysis of Biochemical Data (Albert Jeltsch, Jim Hoggett, Claus Urbanke).
Radioisotopes in Molecular Biology (Robert James Slater).
Rat Genome (Ratus norvegicus) (Kim C. Worley, Preethi Gunaratne).
Real-Time Quantitative PCR: Theory and Practice (Gregory L. Shipley).
RecA Superfamily Proteins (Dharia A. McGrew, Kendall L. Knight).
Receptor Biochemistry (Tatsuya Hago, Kimihiko Kameyama).
Receptor Targets in Drug Discovery (Michael Williams, Christopher Mehlin, Rita Raddatz, David J. Triggle).
Receptor, Transporter and Ion Channel Diseases (J. Jay GArgus).
Glossary of Basic Terms.
The Twenty Amino Acids that are Combined to Form Proteins in Living Things.
The Twenty Amino Acids with Abbreviations and Messenger RNA Code Designations.
Complementary Strands of DNA with Base Pairing.