Encyclopedia of Molecular Cell Biology and Molecular Medicine, Volume 12: Recombination and Genome Rearrangements to Serial Analysis of Gene Expression, 2nd Edition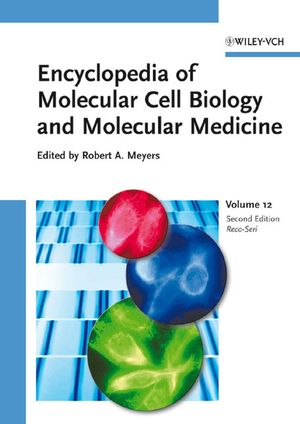 Encyclopedia of Molecular Cell Biology and Molecular Medicine, Volume 12: Recombination and Genome Rearrangements to Serial Analysis of Gene Expression, 2nd Edition
ISBN: 978-3-527-30649-7 October 2005 Wiley-Blackwell 796 Pages
Description
This sixteen volume encyclopedia is the most comprehensive and detailed treatment of molecular biology, cell biology and molecular medicine available today! It was designed in collaboration with a founding board of 10 Nobel laureates.

The Encyclopedia provides a single-source library of the molecular basis of life, with a focus on molecular medicine. The latest advances of the post-genomic era, e.g. in the fields of functional genomics, proteomics, and bioinformatics are discussed in detail.

All articles are designed as self-contained treatments. Each of the approximately 425 articles begins with an outline and a key word section with definitions. Articles are written in a review-like style complemented with an extensive bipartite bibliography of reviews and books as well as primary papers. A glossary of basic terms completes each volume and defines the most commonly used terms in molecular biology. Together with the introductory illustrations found in each volume, the articles enable readers to understand articles without referring to a dictionary, textbook, or other reference.

Praise for the first edition of the preceding "Encyclopedia of Molecular Biology and Molecular Medicine":

"...an authoritative reference source of the highest quality. ... It is extremely well written and well illustrated..." - American Reference Books Annual (Library & Information Science Annual)

"This series can be recommended without hesitation to a broad readership including students and qualified researchers... . ...articles...set-up facilitates easy reading and rapid understanding. ...overwhelming amount of valuable data." - Molecular Biology Reports

".. highly valuable and recommendable both for libraries and for laboratory use." - FEBS Letters

"This series is a classic..." - Molecular Medicine Today/Trends in Molecular Medicine

Preface.
Editor-in-Chief.
Editorial Board.
List of Contributors.
Color Plates.
Recombination and Genome Rearrangements (Hannah L. Klein).
Regulation of Stem Cell (Anil Kumar).
Regulation of Stem Cell Populations (Daniela Drummond-Barbosa).
Regulome (Miguel A. Andrade, Michael A. Rudnicki).
Repair and Mutagenesis of DNA (Raymond Devoret).
Repetitive Sequence and Noncoding DNA Evolution in Eukaryotes (Josep M. Comeron).
Replication and the Cell Cycle (Helena E. Richardson, Leonie M. Quinn, Nancy Amin, Anabel Herr, Julie Secombe, Anthony M. Brumby, Kathryn M. Doyle, Patrick O. Humbert).
Reporter Gene System: Green Fluorescent Protein (Boon Chuan Low, Zhiyuan Gong).
Reproduction of Plants (Jaroslava Dubová, Jan Hejáatko, Jiří Friml).
Respiratory Syncytial Virus Vaccine (Edward E. Walsh).
Restriction Endonuclease and DNA-Modification Methyltransferases (Albert Jeltsch, Richard I. Gumport).
Retinoblastoma, Molecular Genetics of (Vivette D. Brown, Brenda L. Gallie).
Retinoids and the Chemical Biology of the Visual Cycle (Robert R. Rando).
Retrovirus Integration, Biological and Biochemical Machineries for (Duane Grandgenett, Sibes Bera).
Rhythmic and Temporal Processes in Biology (Russell G. Foster, Stuart Peirson, David Whitmore).
Ribosome, High Resolution Structure and Function (Christiane Schaffitzel, Nenad Ban).
Ribozymes (Joyce E. Heckman).
RNA Interference (John G. Doench, Carl Novina).
RNA Methodologies (Robert E. Farrell, Jr.).
RNA Secondary Structures (IvoL. Hofacker,PeterF. Stadler).
RNA Three-Dimensional Structures, Computer Modeling of (François Major, Philippe Thibault).
Sense of Smell (Robert P. Lane, Gregory S. Smutzer, Richard L. Doty).
Serial Analysis of Gene Expression (Jacques Marti, Jean-Marc Elalouf).
Glossary of Basic Terms.
The Twenty Amino Acids that are Combined to Form Proteins in Living Things.
The Twenty Amino Acids with Abbreviations and Messenger RNA Code Designations.
Complementary Strands of DNA with Base Pairing.