Encyclopedia of Molecular Cell Biology and Molecular Medicine, Volume 13: Sex Hormones (Male): Analogs and Antagonists to Synchrotron Infrared Microspectroscopy, 2nd Edition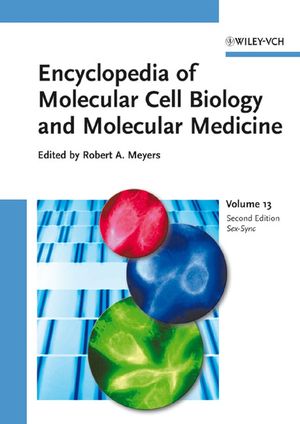 Encyclopedia of Molecular Cell Biology and Molecular Medicine, Volume 13: Sex Hormones (Male): Analogs and Antagonists to Synchrotron Infrared Microspectroscopy, 2nd Edition
ISBN: 978-3-527-30650-3 October 2005 Wiley-Blackwell 760 Pages
Description
This sixteen volume encyclopedia is the most comprehensive and detailed treatment of molecular biology, cell biology and molecular medicine available today! It was designed in collaboration with a founding board of 10 Nobel laureates.

The Encyclopedia provides a single-source library of the molecular basis of life, with a focus on molecular medicine. The latest advances of the post-genomic era, e.g. in the fields of functional genomics, proteomics, and bioinformatics are discussed in detail.

All articles are designed as self-contained treatments. Each of the approximately 425 articles begins with an outline and a key word section with definitions. Articles are written in a review-like style complemented with an extensive bipartite bibliography of reviews and books as well as primary papers. A glossary of basic terms completes each volume and defines the most commonly used terms in molecular biology. Together with the introductory illustrations found in each volume, the articles enable readers to understand articles without referring to a dictionary, textbook, or other reference.

Praise for the first edition of the preceding "Encyclopedia of Molecular Biology and Molecular Medicine":

"...an authoritative reference source of the highest quality. ... It is extremely well written and well illustrated..." - American Reference Books Annual (Library & Information Science Annual)

"This series can be recommended without hesitation to a broad readership including students and qualified researchers... . ...articles...set-up facilitates easy reading and rapid understanding. ...overwhelming amount of valuable data." - Molecular Biology Reports

".. highly valuable and recommendable both for libraries and for laboratory use." - FEBS Letters

"This series is a classic..." - Molecular Medicine Today/Trends in Molecular Medicine

Preface.
Editor-in-Chief.
Editorial Board.
List of Contributors.
Color Plates.
Sex Hormones (Male): Analogs and Antagonists (Robert W. Brueggemeier).
Shotgun Sequencing (SGS) (Jun Yu, Gane Ka-Shu Wong, Jian Wang, Huanming Yang).
Signaling Through JAKs and STATs: Interferons Lead the Way (Christian Schindler, Jessica Melillo).
Signal Transduction Mediated by Heptahelical Receptors and Heterotrimeric G Proteins (Terence E. H´ebert, John K. Northup, R. Victor Rebois).
Single Nucleotide Polymorphism Blocks and Haplotypes: Human MHC Block Diversity (E.J. Yunis, J. Zuñiga, C.E. Larsen, M. Fernández-Viña, J. Granados, Z.L. Awdeh, C.A. Alper).
Skin, Molecular Cell Biology of (Annette Wysocki, Thomas Mustoe, Gregory Schultz).
Somatic Gene Therapy (M. Schweizer, E. Flory, C. Múnk, Uwe Gottschalk, K. Cichutek).
Spatial and Temporal Expression Patterns in Animals (Werner E.G. Müller).
Sphingolipid and Glycolipid Biology (Anthony H. Futerman).
Stem Cells (Stewart Sell).
Stem Cells, Adult (Jason H. Pomerantz, Helen M. Blau).
Stem Cells, Embryonic (Mahendra Rao).
Stem Cells (Human Embryonic) and Cancer (Maty Tzukerman, Karl Skorecki).
Stem Cells in the Adult Brain: Their Identification and Role in Neurogenesis (Arturo Alvarez-Buylla, Erica L. Jackson).
Streptomyces, Molecular Biology of (Paul Herron, Emma Tilley, Iain Hunter).
Stress-Induced Expression of Heat Shock Proteins and Action of the Heat Shock Protein Effectors (Bernd Bukau, Elizabeth A. Craig, Richard I. Morimoto, Arthur L. Horwich).
Structure-based Drug Design and NMR-based Screening (David J. Craik, Richard J. Clark).
Structure, Function and Biogenesis of Peroxisomes (Joel M. Goodman).
Superantigens (Matthew D. Baker, K. Ravi Acharya).
Supermolecular Protein Complexes (Jianpeng Ma).
Synchrotron Infrared Microspectroscopy (Nebojsa S. Marinkovic, Mark R. Chance).
Glossary of Basic Terms.
The Twenty Amino Acids that are Combined to Form Proteins in Living Things/
The Twenty Amino Acids with Abbreviations and Messenger RNA Code Designations.
Complementary Strands of DNA with Base Pairing.