Encyclopedia of Molecular Cell Biology and Molecular Medicine, Volume 14: Syngamy and Cell Cycle Control to Triacylglyerol Storage and Mobilization, Regulation of, 2nd Edition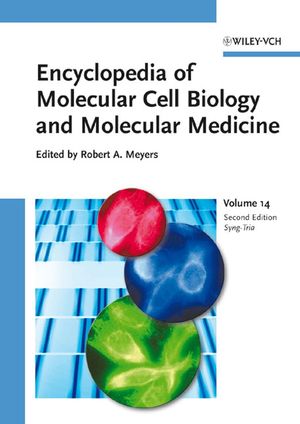 Encyclopedia of Molecular Cell Biology and Molecular Medicine, Volume 14: Syngamy and Cell Cycle Control to Triacylglyerol Storage and Mobilization, Regulation of, 2nd Edition
ISBN: 978-3-527-30651-0
Oct 2005, Wiley-Blackwell
766 pages
Description
This sixteen volume encyclopedia is the most comprehensive and detailed treatment of molecular biology, cell biology and molecular medicine available today! It was designed in collaboration with a founding board of 10 Nobel laureates.

The Encyclopedia provides a single-source library of the molecular basis of life, with a focus on molecular medicine. The latest advances of the post-genomic era, e.g. in the fields of functional genomics, proteomics, and bioinformatics are discussed in detail.

All articles are designed as self-contained treatments. Each of the approximately 425 articles begins with an outline and a key word section with definitions. Articles are written in a review-like style complemented with an extensive bipartite bibliography of reviews and books as well as primary papers. A glossary of basic terms completes each volume and defines the most commonly used terms in molecular biology. Together with the introductory illustrations found in each volume, the articles enable readers to understand articles without referring to a dictionary, textbook, or other reference.

Praise for the first edition of the preceding "Encyclopedia of Molecular Biology and Molecular Medicine":

"...an authoritative reference source of the highest quality. ... It is extremely well written and well illustrated..." - American Reference Books Annual (Library & Information Science Annual)

"This series can be recommended without hesitation to a broad readership including students and qualified researchers... . ...articles...set-up facilitates easy reading and rapid understanding. ...overwhelming amount of valuable data." - Molecular Biology Reports

".. highly valuable and recommendable both for libraries and for laboratory use." - FEBS Letters

"This series is a classic..." - Molecular Medicine Today/Trends in Molecular Medicine

Preface.
Editor-in-Chief.
Editorial Board.
List of Contributors.
Color Plates.
Syngamy and Cell Cycle Control (Michael Whitaker).
Synovial Mast Cells in Inflammatory Arthritis (Theoharis C. Theoharides).
Synthesis of Peptide Mimetics and their Building Blocks (Bruce K. Cassels, Patricio Sáez).
Synthetic Peptides: Chemistry, Biology, and Drug Design (Tomi K. Sawyer).
Systems Biology (H. Busch, R. Eils).
Targeted Therapy: Genomic Approaches (Anna C. Maroney, Sergey E. Ilyin).
Targeting and Intracellular Delivery of Drugs (Ruth Duncan).
Telomerase (Maria Antonietta Cerone, Silvia Bacchetti).
Telomere-binding Proteins in Fission Yeast (Junko Kanoh).
Thale Cress (Arabidopsis thaliana) Genome (Mark D. Curtis, Ueli Grossniklaus).
Therapeutic Angiogenesis (Mary E. Gerritsen).
Therapeutic Compounds in Nature as Leads for New Pharmaceuticals (Antony D. Buss, Brian Cox, Roger D. Waigh).
Three Dimensional Cell Culture: The Importance of Microenvironment in Regulation of Function (Sophie A. Lelièvre, Mina J. Bissell).
Total Analysis Systems, Micro (Shigeori Takenaka).
Transcription Factor NF-κB: Function, Structure, Regulation, Pathways, and Applications (Raymond Cheong, Andre Levchenko).
Transgenic Fish (Pinwen Peter Chiou, Jenny Khoo, Chung Zoon Chun, Thomas T. Chen).
Transgenic Mice in Biomedical Research (J. Willem Voncken, Marten Hofker).
Transgenic Plants for Food Use (Susanne Stirn, Horst Lörz).
Translation of RNA to Protein (Robert Ashley Cox, Henry Rudolph Victor Arnstein).
Triacylglycerol Storage and Mobilization, Regulation of (Günter Müller, Stefan Petry, Aventis Pharma Germany, a member of the Sanofi Aventis group).
Glossary of Basic Terms.
The Twenty Amino Acids that are Combined to Form Proteins in Living Things.
The Twenty Amino Acids with Abbreviations and Messenger RNA Code Designations.
Complementary Strands of DNA with Base Pairing.