Encyclopedia of Nuclear Magnetic Resonance, Volume 9: Advances in NMR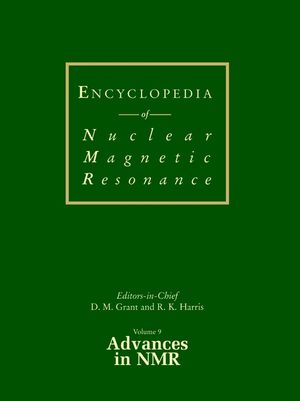 Encyclopedia of Nuclear Magnetic Resonance, Volume 9: Advances in NMR
ISBN: 978-0-471-49082-1 September 2002 880 Pages
Description
The content of this volume has been added to the online reference work
Encyclopedia of Magnetic Resonance
. For further information see
Encyclopedia of Magnetic Resonance
.
As a stand alone volume, Advances in NMR comprehensively highlights the rapid progress of nuclear magnetic resonance over the last five years.
Features 66 articles on the latest major advances in NMR
Written by over 80 internationally recognised experts
With over 900 pages, illustrated extensively throughout, and an easy to read large double-columned format, Advances in NMR covers indepth articles on the latest advances in spectroscopic techniques; nuclear interactions; biochemical, physical and chemical applications. Including these outstanding articles:
Double-Quantum NMR Spectroscopy of Dipolar Coupled Spins Under Fast Magic Angle Spinning (H W Spiess)
Pulse Sequence Design using Rotor and Spin Symmetry ( M Levitt)
Indirect Nuclear Spin-Spin Coupling Tensors (R E Wasylishen)
Weakly Aligned Biomolecules in Liquid Crystals (A Bax)
Multiple-Resonance, Multi-dimensional Solid-state NMR of Proteins (S J Opella)
Dynamics of Hydrogen Transfer in Liquids and Solids (H Limbach)
Optically Pumped NMR of Semiconductors and Two-dimensional Electron Systems (R Tycko/S E Barrett)
"The list of contributors looks like a Who's Who of the subject"
—The Times Higher Education Supplement
Cannot be combined with any other offers.
Original Price:$1,783.00
Purchased together:$1,337.25
save $445.75
Table of contents
Parameters and Symbols for Use in Nuclear Magnetic Resonance (IUPAC Recommendations 1997

Nuclear Spin Properties and Conventions for Chemical Shifts (IUPAC Recommendations 2001

SPECTROSCOPIC TECHNIQUES

NUCLEAR INTERACTIONS

BIOCHEMICAL APPLICATIONS

CHEMICAL APPLICATIONS

PHYSICAL APPLICATIONS

Appendices
Reviews
"...a valuable addition to the Encyclopedia of Nuclear Magnetic Resonance, which is a very useful tool..." (Journal of the American Chemical Society, Vol. 125, No. 12, 2003)