Encyclopedia of Smart Materials, 2 Volume Set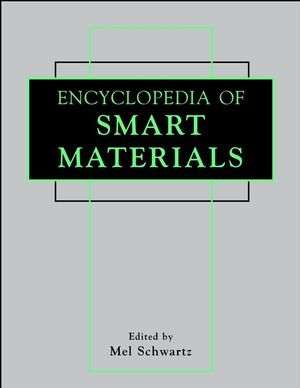 Encyclopedia of Smart Materials, 2 Volume Set
ISBN: 978-0-471-17780-7
Mar 2002
1176 pages
Description
Smart materials--materials and structures that can impart information about their environment to an observer or monitoring device--are revolutionizing fields as diverse as engineering, optics, and medical technology. Advances in smart materials are impacting disciplines across the scientific and technological landscape.

Now, practictioners and researchers have an authoritative source to go to for answers about this emerging new area. Encyclopedia of Smart Materials provides A-to-Z coverage of the entire field of intelligent materials. Discussions of theory, fabrication, processing, applications, and uses of these unique materials are presented here in a collection of concise entries from the world's foremost experts in the field--including scientists, educators and engineers.

This encyclopedia is as broad in scope as the technology itself, addressing daily, commercial applications as well as sophisticated units designed to operate in space, underwater, underground, and within the human body. Extensively cross-referenced and generously supplemented with bibliographies and indexes, this book's treatment also broaches the specialized properties and coatings that are required for the use of materials in extreme conditions.

Illustrated with photographs, tables, line drawings, and equations, Encyclopedia of Smart Materials is the premier reference for material scientists, chemists, chemical engineers, process engineers, consultants, patent attorneys and students in these areas. An essential resource on the shelves of laboratories, government facilities, and academic libraries.

Editor-in-Chief, Mel Schwartz has over forty years of experience with metals, ceramics, and composites, with special expertise in brazing. The holder of five patents, he has authored thirteen books and more than one hundred technical papers and articles.

Reach the information you need rapidly and easily with the ONLINE edition of the Encyclopedia of Smart Materials. The online edition delivers all the rich content of the print edition with the added benefits of an advanced search engine and the desktop convenience of web access. For more information or to license the online edition (beginning July 2002) please visit: www.interscience.wiley.com/reference/esm
Buy Both and Save 25%!
Original Price:$1,395.00
Purchased together:$1,046.25
save $348.75
Cannot be combined with any other offers.
Biomedical Sensing.

Abstract.

1. Introduction.

2. Medical, Therapeutic, and Diagnostic Applications of Biosensors.

3. Polymers as Electrode Coatings and Biosensor Mediators.

4. Immobilization Techniques and Materials.

5. Smart Polymers for Immobilization and Bioconjugate Materials.

6. Biosensor Operation.

7. Glucose Sensors.

8. Other Analytes for Biological Sensing.

9. Modes of Response in Smart Polymers.

10. Molecular Imprinting.

11. Possibilities for Future Development.

Bibliography.

Figures.

Tables.
"The contents of this encyclopedia will not fail to meet expectations of readers.... I strongly recommend this encyclopedia to researchers..." (
Pharmaceutical Research
, Vol. 19, No. 12, December 2002)
"...written throughout at a high intellectual level and covering an impressive range of themes..." (Intermetallics, No.11, 2003)
"...the actual content of the work is prodigious?a rich collection of detail knowledge and general information..." (Journal of Materials Technology, March 2003)
"...a key reference, providing a broad and accessible description of a complex and growing interdisciplinary field?recommended..." (Choice, Vol. 40, No. 8, April 2003)
"...an interesting compendium of smart materials...the wide use of polymers, which is of interest to our readers, is discussed throughout...useful..." (Polymer News)