Ender's Game and Philosophy: The Logic Gate is Down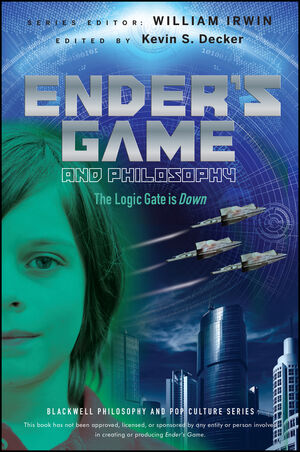 Ender's Game and Philosophy: The Logic Gate is Down
ISBN: 978-1-118-38657-6
Jul 2013
248 pages
Description
A threat to humanity portending the end of our species lurks in the cold recesses of space. Our only hope is an eleven-year-old boy.

Celebrating the long-awaited release of the movie adaptation of Orson Scott Card's novel about highly trained child geniuses fighting a race of invading aliens, this collection of original essays probes key philosophical questions raised in the narrative, including the ethics of child soldiers, politics on the internet, and the morality of war and genocide.
Original essays dissect the diverse philosophical questions raised in Card's best-selling sci-fi classic, winner of the Nebula and Hugo Awards and which has been translated in 29 languages
Publication coincides with planned release of major motion picture adaptation of Ender's Game starring Asa Butterfield and Harrison Ford
Treats a wealth of core contemporary issues in morality and ethics, including child soldiers, the best kind of education and the use and misuse of global communications for political purposes
A stand-out addition to the Blackwell Philosophy and Pop Culture series
Buy Both and Save 25%!
Original Price:$36.90
Purchased together:$27.67
save $9.23
Cannot be combined with any other offers.
Introduction: What Is Ender's Game? 1
Part One THIRD: The Making of an Impossible Child 7
1 "The Teachers Got Me Into This": Educational Skirmishes … with a Pinch of Freedom 9
Cam Cobb
2 Illusions of Freedom, Tragedies of Fate: The Moral Development of Ender Wiggin 21
Jeremy Proulx
3 Xenocide's Paradox: The Virtue of Being Ender 32
Jeff Ewing
4 Teaching to the Test: Constructing the Identity of a Space Commander 41
Chad William Timm
Part Two GAME: Cooperation or Confrontation? 53
5 The Enemy's Gate Is Down: Perspective, Empathy, and Game Theory 55
Andrew Zimmerman Jones
6 War Games as Child's Play 66
Matthew Brophy
7 Forming the Formless: Sunzi and the Military Logic of Ender Wiggin 78
Morgan Deane
8 Do Good Games Make Good People? 89
Brendan P. Shea
Part Three HIVE-QUEEN: All Together Now 99

9 Bugger All!: The Clash of Cultures in Ender's Game 101
Cole Bowman
10 Why Ender Can't Go Home: Philotic Connections and Moral Responsibility 112
Brett Chandler Patterson
11 Of Gods and Buggers: Friendship in Ender's Game 124
Jeffery L. Nicholas
Part Four WAR: Kill or Be Killed 137
12 "I Destroy Them": Ender, Good Intentions, and Moral Responsibility 139
Lance Belluomini
13 Ender's Beginning and the Just War 151
James L. Cook
14 "You Had to Be a Weapon, Ender … We Aimed You": Moral Responsibility in Ender's Game 163
Danielle Wylie
15 The Unspoken Rules of Manly Warfare: Just War Theory in Ender's Game 175
Kody W. Cooper
Part Five HEGEMON: The Terrible Things Are Only About to Begin 187
16 Locke and Demosthenes: Virtually Dominating the World 189
Kenneth Wayne Sayles III
17 Ender's Dilemma: Realism, Neoliberalism, and the Politics of Power 202
Ted Henry Brown and Christie L. Maloyed
18 People Are Tools 212
Greg Littmann
Convening Authorities of the Court Martial of Colonel Hyrum Graff 224
The Ansible Index 230