Endless Appetites: How the Commodities Casino Creates Hunger and Unrest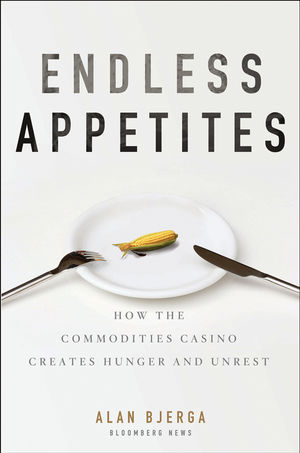 Endless Appetites: How the Commodities Casino Creates Hunger and Unrest
ISBN: 978-1-118-16959-9
Sep 2011
208 pages
Description
How to understand the twenty-first century food crisis
Since 2007, farm-product prices have rocketed and plunged, causing hunger, malnutrition, and social and political upheaval around the world. Endless Appetites explores how "food security," the availability of food and the reasonable ability to buy it, has become one of the most challenging topics of our time. With every jump in grocery-store prices, the issue becomes more and more pressing, proven by this year's record increase in food prices, which has already topped the spike of 2008.
Award-winning commodities reporter Alan Bjerga explains the food crisis and why it is happening in an accessible, articulate manner
Why is this happening when more food is being grown than ever?
Why are crop markets?first established in the 1800's to help stabilize agricultural commodity prices?acting like an investors' casino, with prices absorbed by rich nations taking food from the mouths of the poor?
From college campuses to emergency UN meetings, "food security" is one of the hottest topics of the day, with no shortage of interest in how to stabilize food prices worldwide to close the hunger gap
To understand the growing international food crisis, readers need an expert they can rely on. One of the most widely acclaimed journalists on food security, Alan Bjerga is up to the task, taking readers from the trading floor of Chicago to the highlands of East Africa to the rice paddies of Thailand on a global trek to find the causes of the food-price crisis?and the solutions.
Author's Note viii
Prologue xi
CHAPTER 1: Floors, Fields, and Famines 1
CHAPTER 2: Chicago Makes a Market 13
CHAPTER 3: Elephants in the Kiddie Pool 25
CHAPTER 4: A Recipe for Famine 39
CHAPTER 5: The View from Rome 51
CHAPTER 6: Hot Air 65
CHAPTER 7: Promise 79
CHAPTER 8: The Price of a Cup of Coffee 97
CHAPTER 9: A Better Banana 113
CHAPTER 10: Thai Quality 131
CHAPTER 11: Steps Up 147
CHAPTER 12: Harvest of Hope 159
Notes 169
Acknowledgments 189
About the Author 191
Index 193
"
"Endless Appetites
is ideal for someone interested economics and global markets, packed as it is with numbers. But the information in this book is important for anyone who is concerned about the future of our food supply—which should probably be all of us."
—
Serious Eats!
"Worth checking out … Based on the author's personal visits to farmers around the world, Bjerga explains how the crisis happened (short answer: greed), it's tragic effects, and what now has to be done to reverse them."
— The Atlantic
"Some of Bjerga's best writing is about the inner workings of the Chicago Board of Trade and other markets, and when he brings American agricultural history into the story of what other countries have not had and do not have to encourage stable agricultural development. … Bjerga's skill is in the way he forces the reader to make connections between aspects of agriculture that do not normally appear together. And the book is chock full of unusual observations."
— AgWeek
"My Thanksgiving holiday book discovery will become Christmas season reading. ... Lest you think this is just another rant at financial and trading institutions, be aware that Bjerga is a veteran commodities writer and Washington correspondent."
— Lee Egerstrom in Hindsight: The Minnesota 2020 Blog