Endless Money: The Moral Hazards of Socialism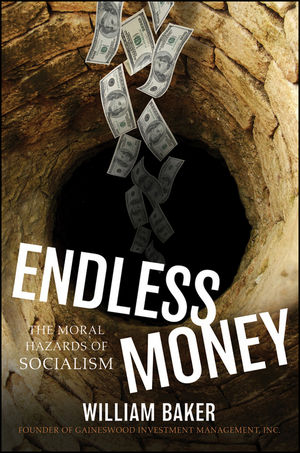 Endless Money: The Moral Hazards of Socialism
ISBN: 978-0-470-55800-3
Oct 2009
384 pages
Description
A detailed look at how, and why, the American financial system has reached its current state
Today's economy and capital markets are faced with the long-term buildup of public and private credit. Furthermore, we face higher taxes, greater spending, and more debt. We are now at a critical crossroads and our leaders have few realistic solutions. Proposals calling for tax reforms or fewer regulations have fallen on deaf ears. In fact, U.S. democracy has become more socialist and reform is needed immediately. Endless Money is an examination of how the U.S. government and the country's financial systems have embraced socialism, and why cultural deterioration reinforces the trend and jeopardizes democracy. In it, author William Baker sees this socialism embodied in two things. The first is the socialization of income, the second is the socialization of credit.
Explores the present socialistic qualities of the American government and its financial system
Looks back at how today's conditions relate not just to the Great Depression, but ancient empires such as Rome
Calls for radical changes such as reduced regulatory power of the Federal Reserve, a considerable devaluation of the dollar in terms of gold, and repeal of income tax
Includes a Web site devoted to book, with recommendations, quotes from the financial community, and think tank contacts
Insightful and informative, Endless Money examines our current economic condition and describes what the United States can do to get back on the right economic track.
Foreword.
Introduction.
Part 1: The Calm Before The Storm.
Chapter 1 Unknown Unknowns.
Chapter 2 Wings of Wax.
Part 2: Endless Money.
Chapter 3 The Rise & Fall of Hard Money.
Chapter 4 Flat-Earth Economics.
Chapter 5 Spitting into the Wind.
Chapter 6 Moral Hazard.
Part 3: Faux Class Warfare.
Chapter 7 The Rich are Different from You and Me.
Chapter 8 Sharecroppers.
Part 4: Assuming Power.
Chapter 9 The Heart of the Financial System.
Chapter 10 A Return to Malaise.
Chapter 11 Democracy: The Achilles' Heel of Capitalism?
Part 5: Socialism – Roman Style!
Chapter 12 From the Golden Era to Totalitarianism.
Chapter 13 Other Perspectives.
Part 6: The Obsolescence of Character.
Chapter 14 Bending to the Modern World.
Chapter 15 Self-Indulgence.
Chapter 16 The New Commandments.
Part 7: The Future.
Chapter 17 Elephants in the Room.
Chapter 18 The Elephant Killer – Gold.
Chapter 19 America Invicta.
Epilogue.
Notes.
About the Author.
Index.