Endocarditis: A Multidisciplinary Approach to Modern Treatment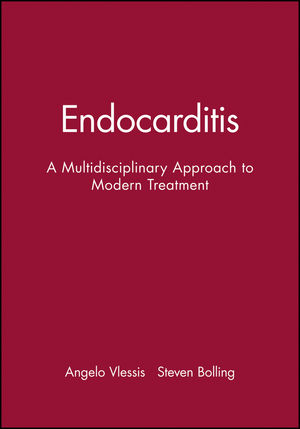 Endocarditis: A Multidisciplinary Approach to Modern Treatment
ISBN: 978-0-879-93433-0 December 1999 Wiley-Blackwell 439 Pages
Description
Within the complexities of endocarditis, explosive advances in medical and surgical technology have combined with a better understanding of the disease process by attending physicians and surgeons, resulting in a reduced mortality of 10 to 15 percent over the past 40 years. The discoveries of antibiotics, cardiopulmonary bypass, better blood cultures, echocardiography and valve replacements have converged to form a disease-oriented approach to its evaluation and early intervention.
By focusing on advances and current technologies in the diagnosis, management and treatment of endocarditis, this work provides clinicians with contemporary, multidisciplinary awareness about infectious diseases, cardiopulmonary dysfunction from sepsis and valvular destruction, application and intepretation of echocardiography, use of inotropic and vasoactive drugs, surgical options to eradicate and treat valvular infection and clinical laboratory tests to diagnose and assess adequacy of treatment. Pediatric surgery of infective endocarditis, prosthetic valve and fungal endocarditis are also special considerations.
Written by leading clinicians recognised for their respective topics, this volume is essential reading for cardiac surgeons, cardiac surgery residents and fellows, thoracic surgical specialists, and manufacturers of valve replacements and tissues. Astute clinicians who confer with these timely insights drawn from history, physiology and surgery stand for an improved outcome in endocarditis patients.
Table of contents
Foreword.
A.A. Vlessis, S.F. Bolling.
Preface.
A. Starr.
.
Part I: Scientific Foundation.
1. Understanding the Cardiovascular Effects of Sepsis and the Medical Therapy of Acute Valvular Destruction in Endocarditis.
B.A. Carabello, A.A. Vlessis, D.D. Trunkey.
2. Pathological and Clinical Laboratory Diagnosis of Infective Endocarditis.
J. Dahl, A.A. Vlessis.
3. Epidemiology of Native Valve Endocarditis.
D.C. Stuesse, A.A. Vlessis.
4. Epidemiology and Risk Factors for Prosthetic Valve Endocarditis.
G.L. Grunkemeier, H-H. Li.
.
Part II: Diagnosis.
5. Clinical Diagnosis of Infective Endocarditis.
W.S. Armstrong, M. Shea.
6. Echocardiographic Diagnosis and Findings in Infective Endocarditis.
D.S. Bach.
7. Neurological Complications of Infective Endocarditis.
A.S. Pruitt.
.
Part III: Management.
8. Medical Treatment and Prevention of Infective Endocarditis.
N.C. Engleberg.
9. Aortic Valve Endocarditis.
L. Aklog, R. Gobezie, D.H. Adams.
10. Mitral Valve Endocarditis.
C.F. Schwartz, S.F. Bolling.
11. Right Heart Endocarditis.
A. Arbulu, S. Gellman, D. Levine, L.W. Stephenson.
12. Management of Annular Destruction, Fistulae and Abscesses.
A.A. Vlessis, M. Deeb, S. Bendre, D.C. Stuesse.
.
Part IV: Special Considerations.
13. Surgical Therapy of Infective Endocarditis in Children.
R.S. Mosca, E.L. Bove.
14. Prosthetic Valve Endocarditis.
B.W. Little.
15. Fungal Endocarditis.
J. Blizzard
Reviews
"Five Stars"
*****

"This is a complete presentation of the issues fundamental to the management of patients with endocarditis, including elements of the basic science, diagnostic studies, and clinical approach to this challenging disease. It is a comprehensive resource to physicians from each of the medical specialties involved in the multidisciplinary management of these patients. Information which otherwise could only be ascertained through review of multiple references and manuscripts is assimilated here, thus establishing this book as an excellent source for this clinically challenging topic."
Doody's Review Service
"This book is an excellent, comprehensive resource for any physician who must deal with the complexities of endocarditis."
Texas Heart Institute Journal