Endocrinology and Diabetes: Clinical Cases Uncovered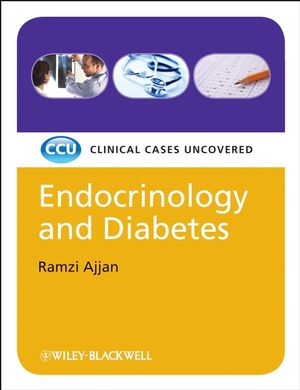 Endocrinology and Diabetes: Clinical Cases Uncovered
ISBN: 978-1-444-39297-5 September 2010 Wiley-Blackwell 208 Pages
Description
Covering cases from Addison's disease to osteoporosis and diabetic foot ulcer, and an introductory section explaining the molecular and physiological aspects of endocrinology, Endocrinology and Diabetes: Clinical Cases Uncovered has it all. Reflecting the varied nature of the specialty, the cases cover various endocrine conditions and address the clinical presentation, diagnostic workup and potential complications, while the self-assessment section, comprising 30 MCQ, 10 SAQs and 10 EMQs, will help medical students, junior doctors, and nurses practise clinical reasoning and prepare for life on the wards.
Preface.
Acknowledgements.
How to use this book.
List of abbreviations.
Part 1 Basics.
The pituitary gland.
The thyroid.
Bone and calcium metabolism.
The adrenal glands.
The reproductive system.
The pancreas.
Lipid abnormalities and obesity.
The neuroendocrine system.
Part 2 Cases.
Case 1 A 19-year-old with abdominal pain and vomiting.
Case 2 A 35-year-old woman with palpitation and irritability.
Case 3 A 61-year-old man with polyuria, polydipsia, cough and weight loss.
Case 4 A 44-year-old woman with visual problems.
Case 5 A 20-year-old man with recent diagnosis of diabetes.
Case 6 Tiredness and weight gain in a 30-year-old woman with diabetes.
Case 7 Acute confusion in an 82-year-old with known type 2 diabetes.
Case 8 A 42-year-old man with headaches, increased sweating and sexual dysfunction.
Case 9 Amenorrhoea in an 18-year-old.
Case 10 A 28-year-old with tiredness and abnormal thyroid function postpartum.
Case 11 A 33-year-old man with polyuria and polydipsia.
Case 12 A 62-year-old man with tiredness and hyponatraemia.
Case 13 Excess hair in a 29-year-old woman.
Case 14 A 52-year-old woman with paroxysmal atrial fi brillation and abnormal thyroid function.
Case 15 A 22-year-old man with hypertension.
Case 16 A 20-year-old woman with polyuria and polydipsia.
Case 17 A 78-year-old man with pain in the leg and knee.
Case 18 A 32-year-old woman with a lump in the neck.
Case 19 A 26-year-old with headaches and hypertension.
Case 20 Sweating, nausea and hand tremor in a 24-year-old woman.
Case 21 A 19-year-old man with sexual dysfunction.
Case 22 A 38-year-old woman with muscular aches and weakness.
Case 23 A wrist fracture in a 56-year-old woman.
Case 24 A 37-year-old woman with recurrent fl ushing.
Case 25 A 46-year-old man with an abnormal lipid profile.
Part 3 Self-assessment.
MCQs.
EMQs.
SAQs.
Answers.
Index of cases by diagnosis.
Index.
Colour plate section.
"The differential diagnosis is followed by treatment and key points. With cartoons and tables. A very didactic text, for students and physicians in training. " (Pediatric Endocrinology Reviews, June 2010)

"Ajjan covers cases from Addison's disease to osteoporosis and diabetic foot ulcer, and has a section explaining the molecular and physiological aspects of endocrinology." (Times Higher Education Supplement, May 2008)
provides the full range of clinical scenarios likely to be experienced in this specialty
covers cases from Addison's disease to osteoporosis and diabetic foot ulcer

includes extensive content on diabetes, reflecting its increasing incidence in society

contains an introductory section explaining the molecular and physiological aspects of endocrinology

features self-assessment material throughout, allowing for the testing of knowledge