Endodontic Microbiology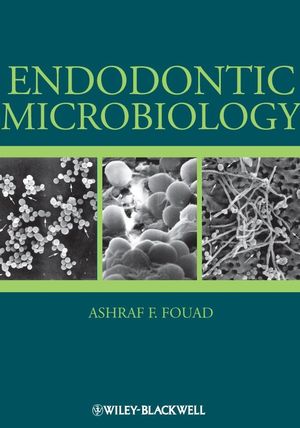 Endodontic Microbiology
ISBN: 978-0-813-80728-7
Apr 2009, Wiley-Blackwell
368 pages
Product not available for purchase
Description
Endodontic Microbiology is a major new work on the microbiology and clinical treatment of endodontic pathosis. Composed of contributions from the leading educators and researchers in the field, this authoritative text offers contemporary evidence and scholarship, bringing the science of endodontic microbiology to clinical practice. Endodontic Microbiology emphasizes the importance of the biological sciences to understanding endodontic disease and its effective management.





The book thoroughly examines the expanding and evolving body of knowledge about endodontic microbiology. The topics covered include persistent and resistant microorganisms, virulence factors, and systemic dissemination of endodontic microorganisms. Written by preeminent experts, Endodontic Microbiology summarizes contemporary thought in the field.
Contributors
Preface
1 Microbial Perspectives in the Twenty-First Century (William Wade).
2 Diagnosis, Epidemiology, and Global Impact of Endodontic Infections (Dag Ørstavik).
3 Microbiology of Caries and Dentinal Tubule Infection (Robert M. Love).
4 Culture-Based Analysis of Endodontic Infections (Gunnar Dahl´en).
5 Molecular Analysis of Endodontic Infections (Jos´e F. Siqueira, Jr, and Isabela N. Rˆoc¸as).
6 Extraradicular Endodontic Infections (Leif Tronstad).
7 Virulence of Endodontic Bacterial Pathogens (Christine M. Sedgley).
8 Herpesviruses in Endodontic Pathosis (Mohammad Sabeti).
9 Fungi in Endodontic Infections (Bilge Hakan Sen and B. G¨uniz Baksi).
10 Management of Aggressive Head and Neck Infections (Domenick P. Coletti and Robert A. Ord).
11 Endodontic Infections and Pain (Anibal Diogenes and Ken M. Hargreaves).
12 Systemic Antibiotics in Endodontic Infections (J. Craig Baumgartner and John R.Smith).
13 Topical Antimicrobials in Endodontic Therapy (Tuomas Waltimo and Matthias Zehnder).
14 Endodontic Infections in Incompletely Developed Teeth (George T.-J. Huang).
15 Prognosis in the Treatment of Teeth with Endodontic Infections (Shimon Friedman).
16 Endodontic Infections and Systemic Disease (Ashraf F. Fouad).
Glossary.
Index.
"Overall, this is an excellent work of reference on the importance of microbiology. It is a must for those performing research into endodontic- and dental tissuerelated microbiology." (International Endodontic Journal, December 2010)




Written by leading authors in endodontic microbiology and clinical treatment of endodontic pathosis

Surveys contemporary evidence and practice in endodontic microbiology

Brings together contributions from leading educators and researchers

Promotes the centrality of biological principles to understanding and managing endodontic diseases

Fuses science and in-depth scholarship with clinical practice