Endoscopic Ultrasonography, 2nd Edition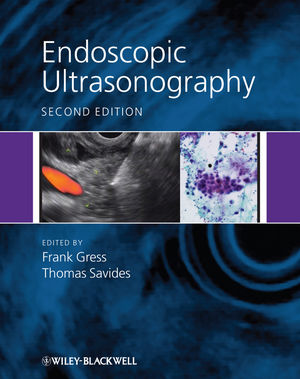 Endoscopic Ultrasonography, 2nd Edition
ISBN: 978-1-444-35999-2 August 2011 Wiley-Blackwell 216 Pages
Description
Want to learn how to use EUS in the treatment of pancreatic cysts?
Need a refresher on how to perform EUS fine needle aspiration?
This is the book for you!
There have been dramatic changes since endoscopic ultrasound (EUS) was first introduced 30 years ago. Advances in technology have meant that as well as being used in the diagnosis of gastrointestinal disorders, EUS is now an accepted therapeutic modality. This second edition covers these exciting changes with new chapters on the emerging field of therapeutic EUS.
The book provides a technical how-to approach to learning this advanced endoscopic procedure. The authors guide you, step-by-step, through the fundamentals of EUS with instructions on:
the instruments involved
sedation procedures
how EUS should be performed
Each chapter discusses a specific aspect of EUS as it relates to a particular gastrointestinal disorder or organ system. Drawing on the vast experience of the authors, this definitive volume contains clear and practical guidance on the state of the art in EUS practice today.
1. EUS at the Beginning: a Personal History.
2. Basic Principles and Fundamentals of Endoscopic Ultrasound Imaging.
3. EUS Instruments, Room Setup, and Assistants.
4. EUS Procedure Technique (consent, sedation).
5. The EUS Report.
6. Radial EUS Normal Anatomy.
7. Linear Array EUS Normal Anatomy.
8. Fundamentals of EUS fine needle aspiration (FNA) biopsy.
9. EUS FNA Cytology Material Preparation and Interpretation.
10. High Frequency Ultrasound Probes.
11. Endoscopic Ultrasound: Applications in the Mediastinum.
12. EUS for Esophageal Cancer.
13. Endoscopic Ultrasound of the Stomach and Duodenum.
14. Gastrointestinal Subepithelial Masses.
15. EUS for the Diagnosis and Staging of Solid Pancreatic Neoplasms.
16. EUS for Pancreatic Cysts.
17. EUS for Pancreatitis.
18. EUS for Biliary Disease.
19. Colo-Rectal EUS.
20. Therapeutic EUS.
21. Training in Endoscopic Ultrasound.
22. The Future of EUS


An established, comprehensive teaching text for all those using endoscopic ultrasonography with over 250 images.

Provides detailed instructions on the therapeutic aspects of endoscopic ultrasonography.

New edition covers the most recent advances in the field.